My Teaching Journey – Jeffrey Teo
Last Updated on 18 June 2023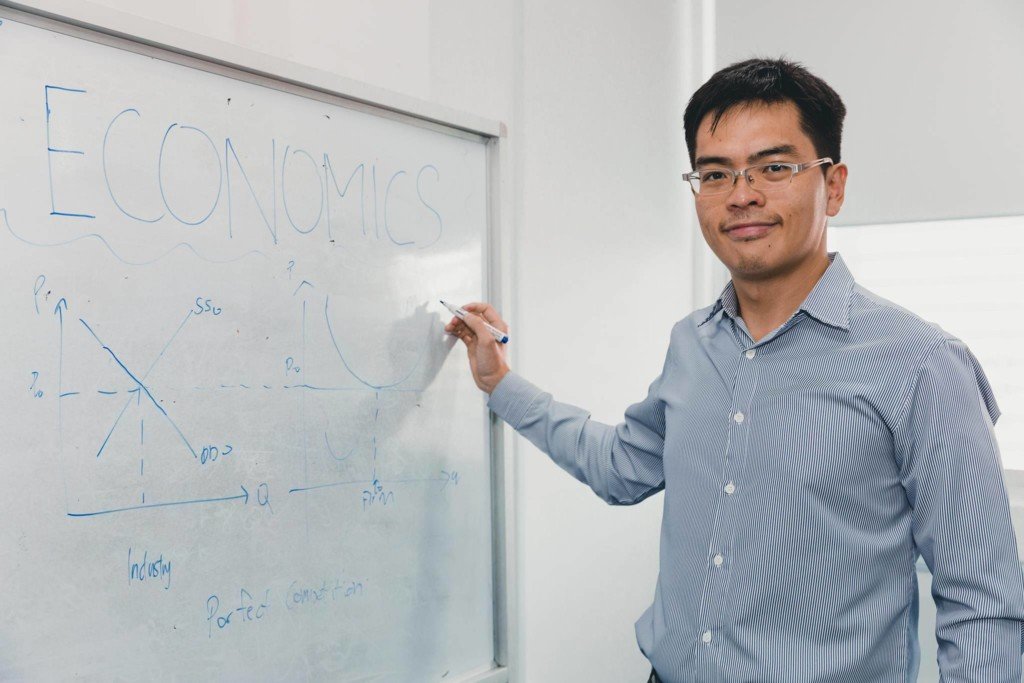 Name: Jeffrey Teo
Name of institution: Ace Your Econs
Role: Chief Educator
What made you choose to become a tutor?
When I was in junior college (JC), the best result I had was in Economics, which was an 'A'. So I started to think: "Why don't I give Economics a try in university?" Even when I was serving my national service, I had been regularly involved in helping my juniors in JC with the subject. I also took up home teaching assignment on Economics during university.
After obtaining my Second Upper Honours Degree in Economics, I landed a job in an established foreign bank but continued to teach JC Economics on the side. Slowly, word of mouth referrals started coming in.
Five years later, I discovered that teaching fits my calling as I derived greater satisfaction helping JC students to improve their grades and indirectly, their lives, as compared to working in a bank. Moreover, I realised that the skills and knowledge I have gained while working in the banks enliven my teaching. My role involved dealing with the Monetary Authority of Singapore (MAS) and it helped me to understand macro-economic policy formation at a deeper level. At such, I took a leap of faith, quitted my high paying corporate banking job and founded Ace Your Econs (AYE) in 2014.
Tell us about your teaching experience.
To date, I have over 10 years of teaching experience in the Economics syllabus for both JC and polytechnic. These days, I focus primarily on teaching Economics at the JC level as I have nurtured an ex-AYE student to take on the coaching role for polytechnic students.
Throughout my career in teaching, I have encountered many kinds of students with different learning needs, i.e., Visual, Aural, Verbal, Physical, Logical, Social and Solitary. As such, I have designed a rigorous and structured learning system specially catered to these seven different types of learners. For example, for visual and aural learners, we have our exclusive online video lectures to help them learn visually and aurally.
What are some of the biggest challenges you face in the course of your work? How do you deal with them?
The biggest challenge that I face is in trying to establish rapport and build trust with my students. When students trust you, they will be more receptive of your teachings and tend to improve faster.
However, trust is not built overnight. You have to constantly exceed their expectation before they will trust you. Therefore, I organised breakfast gatherings (for the morning class) and dinner gatherings (for the evening class) to learn more about my students. Outside of lesson time, I make it a point to gather feedback from the students about our programme and how we can further improve their learning experience.
What do you think makes Ace Your Econs a popular choice among students?
Our JC Economics programme aligns our interest with our students as we provide full money back guarantee for our students' result. We are the only one in the industry that has such a practice.
In addtion, we are able to condense the entire JC Economics syllabus and cover it within 21 days and yet not compromise our promise of 'A' grades. Many students love our condensed and easy-to-understand lecture notes versus the thick lecture book they have to carry around.
What advice do you have for parents who wish to enrol their child in your learning centre?
We sincerely hope that parents will emphasise more on the child's strengths and less on his/her grades, as grades are not the sole consideration for future success. We faced instances whereby 'kiasu' parents were 'forcing' their child to our learning centre despite the child not having any learning issues and coping perfectly fine in school. As a result, their relationship with their child was strained because the child not only had to cope with a busy school schedule, but also had to make time for our programme which he/she may not need.
Keen to share your teaching experience? Head over to this page to submit it online!

Community Ambassador; as someone who was raised in a rather privileged family, I hope to address the inequity in educational outcomes based on the circumstance of birth. Bounced around between Australia and Singapore a fair bit.