My Parenting Journey – Max Leong
Last Updated on 24 October 2023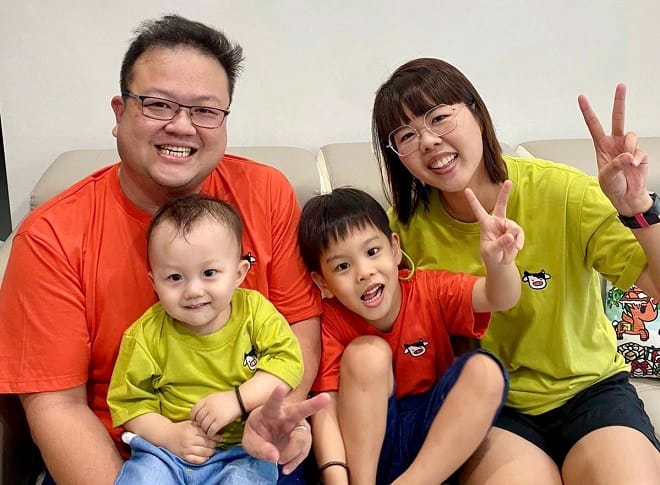 Tell us about your proudest moment as a parent.
My proudest moment as a parent was when my eldest son, who is partially hearing impaired, could start forming sentences when he speaks, writes and reads. He went through lots of occupational and speech therapies before acquiring proper speaking and writing skills.
How do you develop close relationship with your children?
I do whatever I can do to spend whatever amount of time I have with them. I spent the past five years working very hard in two jobs so that I can pay off the debts I owe to my credit cards and personal loans. So now I am in a transition to make good my next five, 10, 20 or even the remaining years to spend as much time as I can to explore with them. It can be ideas, places or what they are going through.
Why, in your opinion, is parenting so hard?
Sometimes we tend to procrastinate and not accept hard truths when our children have conditions. We just find it hard to accept truths but we forgot one thing is that hard truths keep us going. We need to adapt and learn to accept and be there to support and love the child.
Sometimes we tend to procrastinate and not accept hard truths when our children have conditions.
What are some of the biggest challenges you face in parenting? How do you deal with them?
My eldest son has some hearing issues, inherited from me. I was blaming myself initially but gradually I learned to accept it. I spent the past five years living in self-denial and not willing to accept the hard truth but my wife impacted me, as well as my personal mentor who I look up to for advice on parenting. We have children who are imperfect, but ultimately it's how we learn to adapt to the situation and keep going. Support them and don't deny them of all that they need. That's important.
Who influences your parenting style?
My wife and my father. My wife taught me patience while my father taught me how to be responsible and hardworking. He used to start work at 2am to set up his Wan Ton Mee store, working 10-12 hours long. It shows how much he values hard work.
What is the best piece of parenting advice or guidance you have ever received?
Never use the cane on your children to resolve matters and issues. Caning doesn't solve the problem. Build the discipline based on having a word with them, reason it out with them why they cannot do certain things or learn certain habits.
As a parent, what is the one thing that you want to do better or be better at?
I want to learn to be even more patient with my sons. I think at the rate that I am going, I still have a lot more to learn from my mentor, wife and father.
How did you deal with having the kids around at home for longer periods of time during the COVID pandemic?
Patience and love. These are two things I believe we need to have in order to be able to deal with having them around at home for an extended period of time.
Keen to share your parenting experience? Head over to this page to submit it online!

Community Ambassador; as someone who was raised in a rather privileged family, I hope to address the inequity in educational outcomes based on the circumstance of birth. Bounced around between Australia and Singapore a fair bit.