My Scholarship Journey – Isaac Long
Last Updated on 27 May 2023
Name: Isaac Long
Year Awarded Scholarship: 2010
Scholarship Scheme: DSTA Scholarship
Course of Study: Bachelor of Science (Electrical Engineering and Computer Science), Master of Engineering (Electrical Engineering and Computer Science), University of California – Berkeley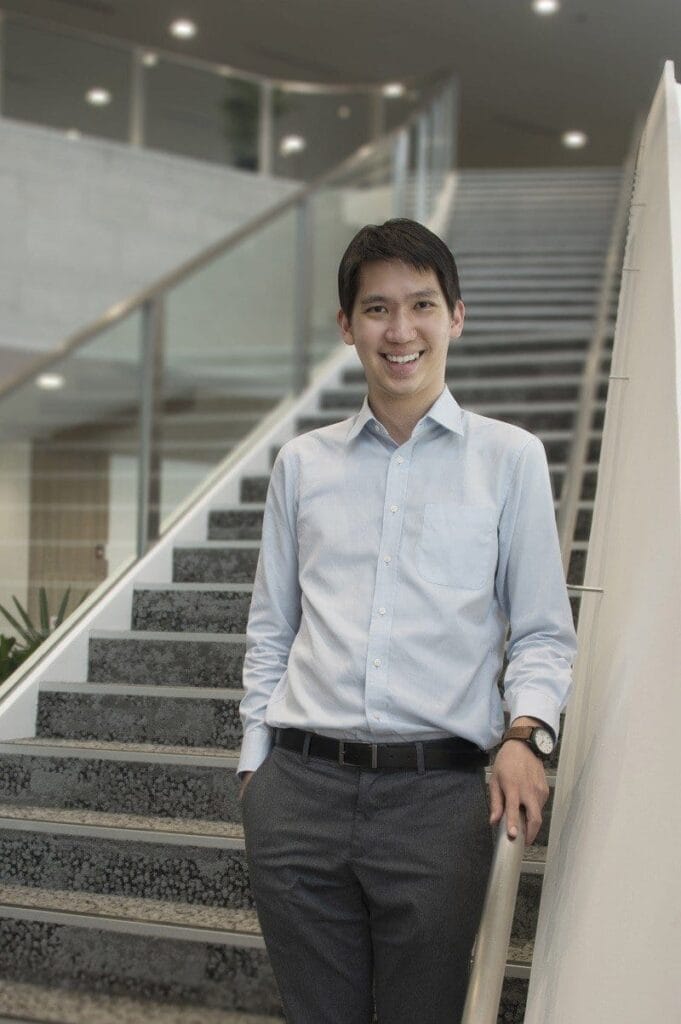 What sparked your interest in the DSTA Scholarship?
I've had an interest in mathematics and science since young, so pursuing an engineering degree was a natural choice for me. I was attracted to the defence sector as it has led the development of many engineering feats. The DSTA Scholarship appealed to me as it offered the prospects of solving real-world challenges and building up Singapore's defence and engineering capabilities.
Tell us about your roles and responsibilities as a senior engineer in Cybersecurity.
I perform cybersecurity tests and audits, and evaluate the cyber health of systems in MINDEF and SAF. I also perform analysis on possible vulnerabilities to develop cyber defences against advanced threats.
What are some of the challenges you have faced at work and how have you overcome them?
Part of my work involves the analysis of vulnerabilities in IT software. It is important to be able to digitally take apart software and analyse its intricate details, so as to identify weaknesses and gaps in the defences. This is also what malicious hackers do when they want to exploit vulnerabilities on their targets! My job is to discover and plug these gaps before the hackers take advantage of them.
Unlike often depicted in movies and popular culture, cyber analysis is a meticulous process requiring perseverance, hard work, and out-of-the-box thinking. It can be challenging when there are little open-source information available.
At DSTA, my colleagues are always open to share their own experiences and advice on technical challenges, which help me to get up to speed when I encounter unfamiliar domains.
What do you enjoy most about your job? What is the most fulfilling part of it?
I enjoy how dynamic the cybersecurity field is! It is constantly evolving. As a cybersecurity professional, I am often surprised by the ingenuity of a newly discovered exploit. Simulating those attacks and seeing them penetrate the layers of defences is like being on a rollercoaster ride – both scary and thrilling! This excitement motivates me to continuously better our defences against threats.
In 2015, I had the opportunity to participate as a mentor in the Cyber Defenders' Discovery Camp, a camp organised by DSTA to raise awareness and generate interest in cybersecurity among youths. It was a fulfilling experience as my colleagues and I shared on the work of a cybersecurity engineer. We conducted a demonstration for the students showing how an "infected" keyboard could compromise a computer. The students were impressed that the attack was like a scene from a spy movie! It was very fulfilling to share the work we do as cybersecurity engineers with them.
Share with us about some of the more memorable episodes you have had throughout your scholarship journey.
Under the DSTA Scholarship, I completed an internship with DSTA where I developed a tool that scanned for malicious elements in documents. This was my first time working on a real-life cybersecurity project and it definitely fuelled my interest in this field.
While pursuing my studies, I also had the opportunity to work with Yahoo! in Silicon Valley for my Masters project. Under its mentorship programme, I explored the development of an app that could allow users to unlock their phone by moving it in a certain way, instead of entering a passcode.
How else does DSTA support your professional and personal development?
DSTA's Staff Development Framework has been very helpful in supporting my professional and personal development. It enables me to develop a personalised career development plan with my supervisor. Through these conversations, I've discussed my career goals at DSTA, and the steps that I should take to get there. This has been helpful in keeping me focused and directed in my work.
With DSTA's emphasis on learning, I have attended in-house and external courses which help to progressively build up my technical and leadership competencies.
What new developments and opportunities can aspiring scholars look forward to, both in defence engineering and in DSTA?
The battlefield of the future will increasingly be on the digital front, and there is a need for engineers who can ensure the security and quality of digital systems and technologies. Aspiring scholars can look forward to being one of the brightest and innovative minds as they keep pace with emerging technologies such as cybersecurity, big data analytics and Internet of Things.
What advice would you give to someone considering whether to apply for a DSTA scholarship?
I believe a most important skill in defence engineering is the ability to learn and adapt quickly. As technology is always changing and advancing, you must constantly seek out new information, synergise it with your current knowledge, and apply it effectively to deliver effective solutions for Singapore's defence and security.
Keen to share your story? Head over to this page to submit it online!

A big fan of MOOC, I am intrigued by how technology has transformed education and makes learning fun again.