Where is the next Amazon or Google revolution going to strike?
Last Updated on 2 May 2023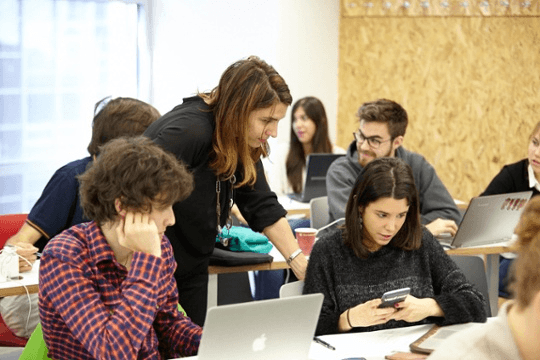 Employers know they need graduates with 21st-century skills to cope with the challenges constantly thrown up by a fast-moving technological environment. For their part, many graduates sense there is something out there in the future that they want to put their stamp on. Even if they don't know what that difference is yet, these millennials want to be in a position to make it.
The challenge for an elite university today is to connect corporate anxiety about the shape of the future with the right kind of young talent to seize the initiative in any given sector. Who is going to have the next big idea that turns a whole market on its head? Where is the next Amazon or Google revolution going to strike? Will my company be able to cope with it? Are we going to lead change, or is change going to lead us to our doom?
Beyond The Deep Blue
In the era of globalisation and electronic revolution, a new model of university is needed. IE University was born in the 21st century alongside the disruptive technologies which have broken down international borders and ushered in an era of constant shifts and change for global business.
With its rich diversity, international outlook, humanistic education, and entrepreneurial spirit, IE University is for students who approach learning as a way of life, and who are open to the world and the transformational role of higher education. It is thus not surprising that the university occupies a leading position among higher education institutions in Europe and worldwide for its excellence in innovation and learning technologies. Its undergraduate programmes are recognised by the most prestigious associations in their respective fields, and highly regarded by employers at leading corporations.
Launch Your Career Internationally
IE University's international recognition and partnerships with leading companies and institutions provide graduates the opportunity to compete for international positions. Students at the university begin to receive employment offers even before they graduate.
While many graduates are recruited by major multinational companies, some students choose entrepreneurship as a career choice and start a business while studying at IE University or shortly after graduation, building and managing their own companies.
10 Reasons to Study at IE University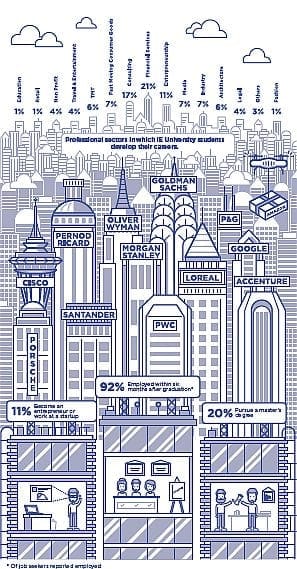 1. Benefit from a unique learning environment
The unique learning environment at IE University is built upon a personalised, student-centric community, within an open environment that embraces a rich diversity of individuals, ideas and approaches.
2. Be part of an unmatched international experience
The rich diversity of IE University provides an environment that will give you the international outlook needed to be successful on a global scale. With over 65 percent of its student population coming from outside Spain, you will study with a truly diverse community of students from over 100 countries. In addition, exchange studies with prestigious partners worldwide, and internship opportunities around the world, will offer you an unmatched international experience.
3. Connect with a diverse and accessible faculty
The faculty at IE University comprises excellent academics and experienced professionals with international experience and close ties to the professional world. The professors have daily interaction with students, offer regular feedback and provide the support needed to accomplish your professional goals.
4. Turn your ideas into reality
IE University will inspire you to be entrepreneurial in any field or discipline, providing an environment where you can be open to new ways of thinking, release your creativity, and venture into the unexplored.
5. Take advantage of a student-centred approach
The professors are actively engaged with the students in the learning experience. You will join a supportive community that values your uniqueness and that will guide you as you shape your own path.
6. Experience a practical learning methodology
Each year, students can choose a range of internship options, working on campus, in Spain and around the globe, and acquire an impressive set of skills and professional experiences that make them highly sought after when they graduate.
7. Share a forward-looking vision
IE University is consistently ranked among the top 10 universities worldwide for innovation in technologies and teaching. Its practical approach in education prepares you to meet the professional challenges you will face in your future.
8. Personalise your path to success
The innovative degree programmes are recognised by the most prestigious associations in their respective fields, and integrate a broad range of teaching approaches and options that will allow you to shape your own education according to your professional aspirations.
9. Live your student life to the fullest
You will have the chance to enjoy living and traveling in Spain and beyond, and to participate in all the extracurricular activities available to you at IE University.
10. Build your way to the future
Employers of leading companies worldwide consider IE University among the top universities where they want to recruit from. You will belong to a community of more than 45,000 IE alumni worldwide, make friends for life, and enjoy an active alumni network that you can always depend upon throughout your professional journey.

IE University is for students who approach learning as a way of life. We provide a supportive community where students and faculty interact together in the learning process.