Natanya Tan, a wunderkind with an eye on the Olympic Games
Remember the wonder child who sang the NDP theme song Love At First Light alongside Singaporean singer-actress Olivia Ong 10 years ago? That's Natanya Tan at seven years old.
You can call her a wunderkind, but even that could be an understatement.
At 18, Natanya is already making a name for herself as a national athlete, receiving the 2021 Singapore Schools Sports Council Sportsgirl of the Year Award for air rifle shooting and representing Singapore at the 31st Southeast Asian Games in Hanoi in May 2022. At this event, Natanya won a Bronze medal for the women's team event and placed 4th in the individual event.
That's not all.
Natanya also competed at the ISSF Grand Prix 2022 in Jakarta, winning a Gold medal in the women's team event and Bronze in the mixed team event.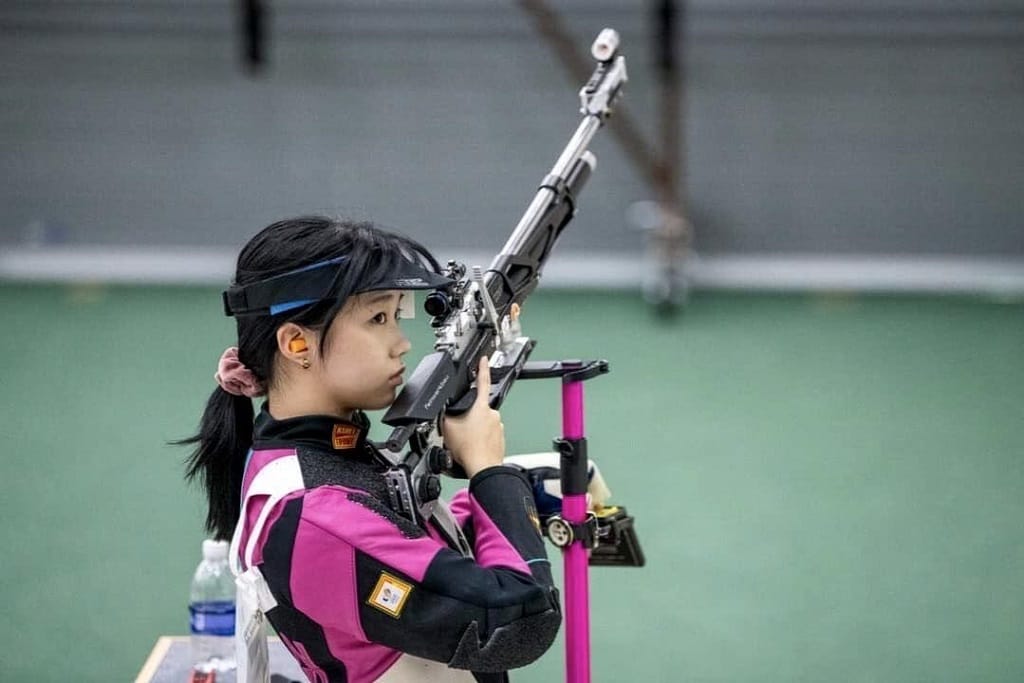 But sports isn't the only area she's achieving success.
At the November 2022 IB Examinations, Natanya scored 45 – the highest possible score. This is no small feat for someone who's been juggling national team responsibilities alongside rigorous academics at St. Joseph's Institution International.
She has also represented SJI International at debating competitions, being the president of the Debating Society and team captain of the senior debating team. In 2022, she led the school team to the championship at the Hwa Chong British Parliamentary Debate Championships, where she was ranked as the overall best speaker.
With dreams of becoming a surgeon someday, she interned at the Itahana Lab of tumour suppression at Duke-NUS Medical School for one month in 2022, where she worked on a project on genetics and cancer.
Outside of school, Natanya created Dewdrop Selfcare, an Instagram account that educates others about the importance of self-care and mental health. The platform breaks down self-care in ways that are easy to implement in daily life, and features interviews of medical professionals, including dermatologists and psychologists, based on questions submitted by followers.
"I started this project in late 2020 after my passion for dermatology spurred me to do more research into the subject and the project eventually spread into the overall topic of self-care and mental health," Natanya shares.
Her passion in serving the community started early. Since the age of 15, she has been volunteering weekly for 7 Cups of Tea, an online platform that provides free support to people experiencing emotional distress and mental health issues by connecting them with trained listeners.
Juggling all of these definitely takes a lot of work, and a village – one she is eternally grateful for.
"Although I believe that hard work, discipline and time management are at the core of being able to balance my commitments, I am genuinely very grateful for the support that I've received from my family and the SJI International community. My teachers have been incredibly supportive, especially when it comes to times when I have to travel overseas to compete… I'm also extremely grateful for my friends, who have always been incredibly encouraging."
Looking ahead, she hopes to dedicate a lot more training time to air rifle shooting and participate in as many overseas competitions as she can, in hopes of winning an Olympic quota and representing Singapore in Paris 2024.

Community Ambassador; as someone who was raised in a rather privileged family, I hope to address the inequity in educational outcomes based on the circumstance of birth. Bounced around between Australia and Singapore a fair bit.