Fast Facts
The Rhodes Scholarships are postgraduate awards supporting exceptional all-round students from around the world to study at the University of Oxford. Established in the will of Cecil Rhodes in 1902, the Rhodes is the oldest and perhaps the most prestigious international scholarship programme in the world.
If you are a young person of outstanding intellect, character, leadership, and commitment to service, you could be a candidate for the Rhodes Scholarship.
Ninety-five outstanding young women and men are awarded the Scholarship each year, from 20 Rhodes constituencies (64 countries) worldwide.
Life as a Rhodes Scholar
Applicable Disciplines
Scholars may pursue any full-time postgraduate degree (subject to limited restrictions) offered by the University of Oxford, for a duration of 2-3 years.
Value of Award
A Rhodes Scholarship covers all University and College fees, a personal stipend and one economy class airfare to Oxford at the start of the Scholarship, as well as an economy flight back to the student's home country at the conclusion of the Scholarship.
The basic tenure of the scholarship is two years, subject always, and at all times, to satisfactory academic performance and personal conduct.
Eligibility
Students from Australia, Bermuda, Canada, China, Germany, Hong Kong, India, Israel, Jamaica & the Commonwealth Caribbean, Kenya, Malaysia, New Zealand, Pakistan, Singapore, Southern Africa (including South Africa, Botswana, Lesotho, Malawi, Namibia and Swaziland), Syria, Jordan, Lebanon and Palestine (SJLP), United Arab Emirates, United States, West Africa (new from 2018), Zambia and Zimbabwe.
The following eligibility criteria apply to all applicants for the Rhodes Scholarships:
Citizenship & residency
Each applicant must fulfil the citizenship and residency requirements of the Rhodes constituency for which they are applying. Please check the detailed information carefully via the country links.
Age
Age limits vary between constituencies and range from a minimum age limit of 18 to a maximum of 28 by 1 October of the year following selection. In most constituencies, the age limit is 24 or 25. Please check carefully the specific age requirements for your constituency before applying. Successful candidates will arrive in Oxford the October following the selection process. The Scholarship may not normally be deferred.
Education
All applicants must have achieved academic standing sufficiently advanced to assure completion of a bachelor's degree by the October following election. Academic standing must be sufficiently high to ensure admission to the University of Oxford, which has very competitive entry requirements, and to give confidence that Rhodes Scholars will perform to a high academic standard in Oxford. Individual constituencies may specify a 1st or equivalent. Some constituencies require an undergraduate degree to have been taken within the constituency of application.
How to Apply
All candidates for the Scholarship should read the information about the Scholarships applicable globally, and then proceed to their country-specific page to read the application criteria, eligibility requirements, and deadline specific to their country.
Application Timeline
Depending on the country, applications will open either 1 June or 1 July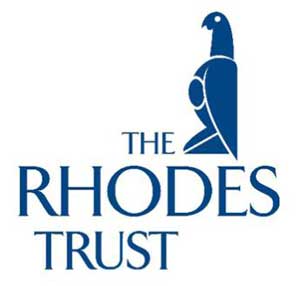 The Rhodes Trust
Rhodes House
South Parks Road
Oxford OX1 3RG
United Kingdom
Tel: +44 (0)1865 270901
Email: [email protected]
Website: www.rhodeshouse.ox.ac.uk
Facebook: RhodesTrust
Twitter: @rhodes_trust
YouTube: RhodesTrust
---
Want to list your scholarships on our website? Head over to this page to submit your info online!