My Teaching Journey – Lim Wei Bin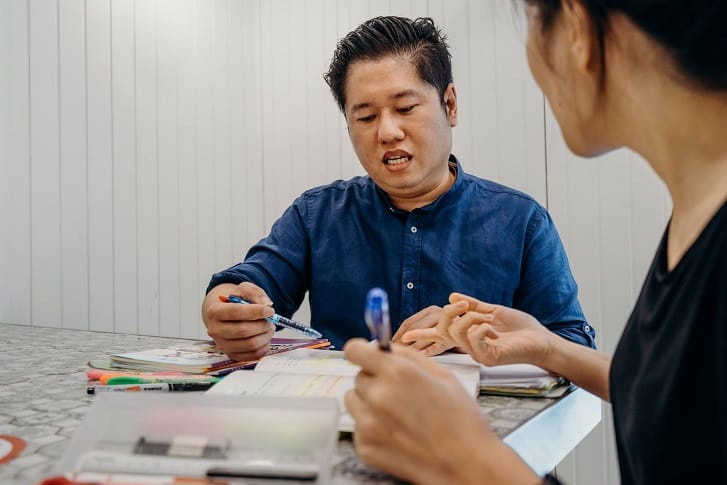 What inspired you to become an educator?
It's my childhood aspiration. I like to hold a red pen when I was five. Besides growing up in a Mandarin-speaking family, I am also into Chinese books, games, classical fiction when I was young. Along the way, I also met many great Chinese teacher whom I have benefitted from.
What are the qualifications needed for this role?
I have an Honours degree in Chinese Studies (NTU), a Postgrad Diploma in Education from NIE and a Diploma in Business Studies from Ngee Ann Polytechnic.
Tell us about your teaching experience.
From classroom management, from being a beginner teacher to an experienced teacher is a long way. When I first step into a class, the most important thing is to build and strengthen the teacher-student relationship. Students need to trust their teacher in order to deliver their best. I had a class back then, whereby I took over the class during mid year, for half a year. The first and second terms were taken by two different teachers. When I took over the class, I focused on building relationship with the students. As a result, half the class got distinction for one of the formal email tests. This remains one of my fondest memories.
Students need to trust their teacher in order to deliver their best.
My interactions with my students were superb. Even during weekends, I would think about my students, how do I make them happy during learning, how can I be more engaging and interactive, how do I make them score well.
Before I became a full-fledge teacher, I worked as a relief teacher in many schools to gain experience and learn more about the different culture. I also went to work at tuition centres to understand their system as well as to observe how other teachers teach in order to learn the good and positive approaches.
Today, I have my own style of teaching. It is a method that I created, adapted and researched along the way.
What are some of the biggest challenges you face in the course of your work? How do you deal with them?
Every student has different challenges. I have experiences helping students who are at borderline passing grade to top the level. I have also helped F9 students to pass their O levels. It boils down to identifying their weaknesses and looking for different ways to help them tackle these weaknesses.
What is the best part about your job?
The biggest pleasure I derived from teaching is to witness my students' growth in terms of character and results. My greatest achievement so far is helping students who progressed from E8 to A2 and F9 to B3. Also, receiving Teacher's Day wishes and "Thank You" notes from students gave me a lot of satisfaction.
What advice do you have for parents who wish to engage your service?
They can join my Telegram group or visit my website at www.linlaoshichinese.com to find out more. I specialise in teaching Composition writing as not all teachers know how to teach this. I don't believe in memorising vocabulary, idioms, etc. I teach students different styles of writing. I also teach them different techniques to tackle different kinds of questions.
I also take care of other aspects such as knowledge and oral. I will have talks and discussions regarding current affairs with my students so that they know what's happening around the world and in particular, Singapore.
My lessons are engaging and interactive. I ask students lots of questions, to get them to think, especially for higher level questions. This will help to stretch their mind and learning. My students find these approaches beneficial.
Keen to share your teaching experience? Head over to this page to submit it online!

A big fan of MOOC, I am intrigued by how technology has transformed education and makes learning fun again.