My Teaching Journey – Joel Liu
Last Updated on 5 March 2023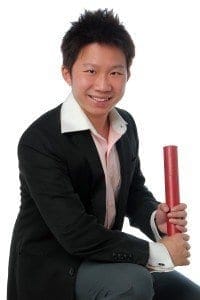 Name: Joel Liu
Name of institution: Bright Culture
Role: Star Educator
What made you choose to become a tutor?
I am passionate about teaching because I can help students to reach their maximum ability and help them to be the best they can be. Personally, I strongly believe that teachers are equipped with this ability to influence their students positively in their academics and also in their personal life. Hence whenever I see my students grow into capable young adults, it gives me great satisfaction and joy.
I love the idea that I am able to form deeper relationship with each and every one of my students, hence I decided to jump straight into tutoring and I have never regretted since!
What are the attributes needed for this role?
I personally advocate that tutors should be able to engage and explain concepts to students in the shortest and clearest way possible. With the overwhelming information students are receiving, teachers should equip students with the ability to identify the essence of each chapter to study smart. Tutors should also interact with students and not make it a one-sided affair with only the teacher talking as communication with students will help to identify students' weaknesses.
In addition, I strongly believe teachers have to be sincere and genuine while teaching and definitely insert humour into lessons to capture the attention of our students. Studying is considered mundane for most students and as tutors, we should step in and play a part to make students look forward to studying!
Tell us about your teaching experience.
I have been a chemistry tutor for more than 12 years full time and had since taken in more than hundreds of students with different levels of understanding in chemistry, varying learning styles and speeds. Hence, I do have a wide experience as I had the opportunity to teach students ranging from kinesthetic learners to visual learners and students with grades F9 to A1.
Over the years, I have developed unique techniques to engage, motivate and inspire my students to ace their examinations. Additionally, I have the experience to figure out students' problems and have varying ways of explaining concepts in these 12 years of teaching. I am glad to be able to say that I have seen so many of my students improve tremendously and this is what kept me motivated to continue giving my best to tutor my students.
What are some of the biggest challenges you face in the course of your work? How do you deal with them?
During my lessons, I would always strive to give my students utmost encouragement and motivation as I personally have seen that these are the secret ingredients for academic success! However, the greatest challenge comes when a handful of students still lack the motivation and confidence in their studies despite the continuous support I try to give.
Nonetheless, I believe that my main role as a tutor would be to inspire and motivate students constantly to help them to reach their maximum potential. Therefore, I would use different approaches to reach out to my students until they are once again motivated to ace their examinations.
What do you think makes your organisation a popular choice among parents?
Bright Culture stands out from other tuition centres as we prioritise on building a strong and positive rapport with our tutors as we want our students to feel that we genuinely care and want to help them in their academic struggles. The tutors here will make an effort to get to know the students and once students have formed a strong bond with their tutors, they are more likely to do well. The reason is that students will look forward to our engaging tuition lessons and this will help them to be more receptive and attentive during lessons and hence, absorbing more knowledge during tuition.
Our lessons are engaging and light-hearted, inserted with humour to excite and entertain our students, making tuition an enjoyable and fulfilling experience for them!
We focus on motivating students not just purely on studies but also in life. Bright Culture believes that only motivated students can produce astonishing results as this motivation will increase their resilience and determination to strive harder for their As. We understand that examinations are tough hence throughout lessons, our teachers will share motivational stories to make lessons more interesting while providing students with inspiration and encouragement.
What advice do you have for parents who wish to enrol their child in your institution?
Parents do not have to worry that our teaching skills will be compromised with the focus on motivating our students. Here at Bright Culture, our teaching techniques are top-notch as we are trained to skillfully explain concepts to students in the shortest and clearest way. We also provide additional help to students with our specially-designed Chemistry notes which you can view a sample of it on our website. Rest assured that your child is in good hands as all of our tutors are highly qualified, experienced and we understand the syllabus well!
Keen to share your teaching experience? Head over to this page to submit it online!

A big fan of MOOC, I am intrigued by how technology has transformed education and makes learning fun again.