My Teaching Journey – Garry Glanz
Last Updated on 1 September 2022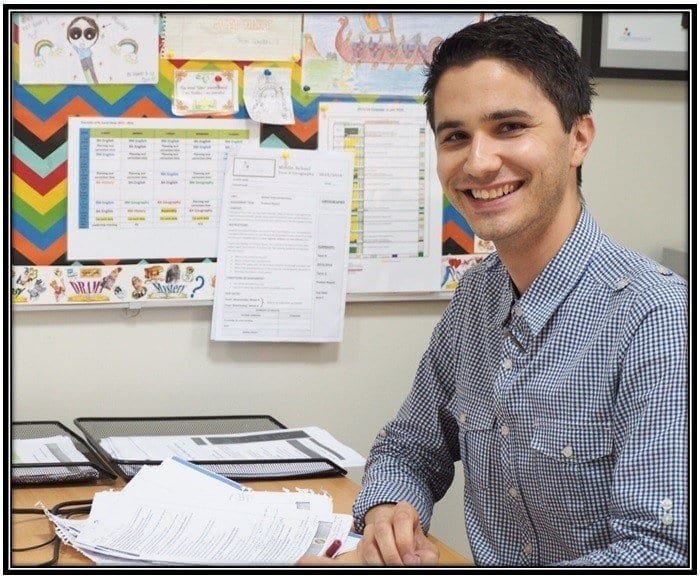 Name: Garry Glanz
Name of institution: St. Joseph's Institution International Malaysia
Role: High School teacher
What made you choose to become a teacher?
When choosing the path for my tertiary education, my goal was to make a career out of my major passions, which are History and English literature. What better job, I thought, than to share these fascinating areas of knowledge with young people? More importantly, what made me remain in this vocation after a year or so was a realisation that not only was I very good at it, I also immensely enjoyed it. Part of this enjoyment comes from knowing that I am contributing to the common good. I believe that the vast majority of problems that the world faces could be greatly mitigated, if not fixed, if only everyone had access to the right kind of education. Finally, I think an integral part of my career choice may be genetic: my mother, a teacher all her life, was (and still remains) my greatest inspiration.
What are the qualifications needed for this role?
Most schools require their teachers to have done an undergraduate degree of some manner, and a diploma of education with a specialisation in at least two subjects. In my case, I completed a Bachelor of Secondary Education in History and English at Australia's Griffith University. Apart from official qualifications, however, the role of a teacher requires care, compassion, and approachability, but an assertive persona when called for. It requires professionalism, and an ability to ambitiously manage the expectations of one's students, colleagues, and most importantly, one's self.
I believe that the vast majority of problems that the world faces could be greatly mitigated, if not fixed, if only everyone had access to the right kind of education.
Tell us about your teaching experience
After finishing at university in 2010, I began teaching in the public school system of South East Queensland in my home country, Australia. Soon after starting this job, an opportunity to teach internationally came up, and I went for it. To my great surprise, I got it, and moved to Sharjah in the United Arab Emirates to begin my first overseas post. I look back at this decision as the most significant one made in my life so far. It was here that I truly fell in love with the profession, and progressed to become the Leader of Learning in my English/Humanities planning team. I made lifelong friends in this school, and still often hear from my former students who like to remind me how much I meant to them. The feeling is definitely mutual! After five years, however, I decided it was time for a change, and tried my luck in South East Asia. I have since been working across a few departments at St. Joseph's Institution International Malaysia for just over a year now, and am loving the experience.
What are some of the biggest challenges you face in the course of your work? How do you deal with them?
Working in a school where students are happy and academically driven, colleagues are eager to help, and management is understanding and supportive, I find that I experience few major challenges in my day-to-day work. Nonetheless, here are two with which I'm sure all educators will empathise:
Encouraging students to manage their expectations in a perfection-driven culture can sometimes be a challenge. A professional manner, solutions-focused approaches, and tapping into the wisdom of my colleagues are three of my best strategies in response to this.
While maintaining a work-life balance is challenging enough for all people involved in education, doing so in a start-up school can be extra-tricky. I find, though, that even if I need to stay behind for a while some afternoons, keeping the weekends sacred is a must!
What do you think makes your institution a popular choice among students?
The name of St. Joseph's Institution already has a stellar reputation in the region, thanks to our sister school, SJII in Singapore. We offer two world-renowned curricula in the High School, namely the IGCSE and IB Diploma. Due to the devoted work of an incredible team of teachers who truly care for their students, SJIIM has gained a great name in the community, with growing numbers of enrollments every day.
Keen to share your story? Head over to this page to submit it online!

Community Ambassador; as someone who was raised in a rather privileged family, I hope to address the inequity in educational outcomes based on the circumstance of birth. Bounced around between Australia and Singapore a fair bit.