Future Leader – Carlo Lim
In this article, we shine a spotlight on Carlo Lim, a Bachelor of Commerce student majoring in Accounting and Information Systems at the Victoria University of Wellington in New Zealand. What makes him a Future Leader? Read on to find out.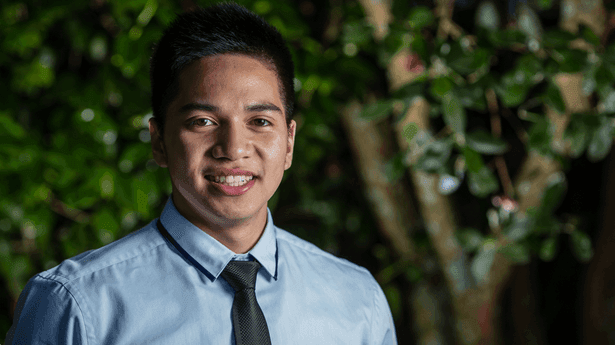 What is your career dream?
My life goal is to be an influential person who would spark, carry out, and make the positive changes, which the world and the people need in different situations in life.
Every single person has their own God-given gift to carry out their goals; I believe mine is in the area of business. I wish to become a positive role model and a standard of excellence in doing business.
Ideally, the vision of my goal is to become a CEO of a large, well-respected and renowned company, which upholds its integrity to benefit not only the company itself, but also society, and become a positive example for people doing business worldwide.
Of course, I know I do not have to be a CEO of a large company to start being a positive role model. I try to leave a positive mark on people who I meet. Everyone in any stage in life can become a positive role model.
What is your biggest career fear?
Having a career that would negatively impact my relationship with family and friends, as I believe that the people who have supported me, and will support in every step of the way in getting to where I will be in my career, are the most important.
How would you answer a question about your greatest strengths and weaknesses in a job interview?
One of my strengths is my continuous drive for personal development while helping others. Going out of my comfort zone to challenge the limits of my skills is something I like doing. It helps me discover new things around me and about myself, meet other people and make new friends. I believe there are lots of opportunities that come up when there is change, even turning my weaknesses into strengths.
A weakness of mine involves my nature of always feeling accountable in the tasks that I do or am involved with. Because of this, even on small or insignificant tasks that did not turn out the way I hoped for, I feel disappointed as if it were a catastrophic outcome. Having said that, this has also given me the habit of being attentive to every detail of a task, which means I give my full effort on both small and significant tasks.
It is important to understand and accept my own weaknesses as I know everyone has their own strengths and weaknesses, which is why I believe in the power of working in a team where everyone complements each other's traits.
How would you like an employer to describe you after your first interview with them?
I would like to be able to fully express and share with my employer what I have to offer for them. I would like them to describe me as someone who has qualities of being reliable, adaptive, hardworking, but also a fun, humorous, energetic, ambitious and enthusiastic individual. In other words, I would like to have left a smile on their face because they have found the right individual for the role.
How have you built experience while you've been studying?
I wanted to know more about CPA Australia especially as it is one of my options to go to after I graduate, therefore I decided to apply and become a Student Ambassador. On my second year, I wanted to pass on my knowledge and experience to the new students, so I became a Campus Coach, Class Representative, and I'm planning on becoming a tutor for the upcoming year.
While looking for volunteer opportunities outside of the university, I decided to participate on the ones that would give me the most relevant experience for my Commerce Degree. I chose to become a Budget Adviser, which has not only taught me how to enable clients to become financially independent, it has given me experience in dealing with finance agencies such as banks and creditors on behalf of clients.
Every single person has their own God-given gift to carry out their goals.
At the start of my second year, I actively applied for all internships from different companies that were liaised through the university. Even though I did not meet the exact criteria of being on my penultimate year of study, I got through to the next stages of the applications, and even received one interview. I was also part of the Career Compass Programme held by Ersnt & Young. Despite the fact that the numerous applications, online forms, information evenings, video and face-to-face interviews have not exactly led me to an internship or a job, it has given me more experience on the whole process and I was able to gain more knowledge, and get to know more about my prospective employers.
I enjoy indulging into physical wellbeing and discipline activities such as kickboxing, as I consider them important for personal development. Kickboxing has helped me train both my mind and body. It has given me a fitness goal towards achieving a level of black belt.
I have also been working part-time in the area of hospitality and customer service for almost three years.
Who do you admire? / Who is your hero? Why?
Michael Jordan. I have always been a fan of basketball growing up; I even played all through high school. He is the most famous basketball player of all time and he has a quote that has stayed with me even outside the court: "I have failed over and over again in my life and that's why I succeed." That quote has helped me turn failures and rejections in life into learning curves and opportunities.
Another person who I admire is Elon Musk, CEO of Tesla Motors. In 2014, Musk opened up all of the company's patents for anyone to use in good faith. The company was created to accelerate the advent of sustainable transport. Opening up the patents allowed for innovation from other parties using their technology. As opposed to just focusing on the financial profitability of the company, Musk stayed true to his goal and has largely contributed in the advancement of electric vehicle technology.
What made you choose the course you are currently completing at university?
My parents are Accounting graduates, they have had a large influence and the concepts of trade and business processes have always fascinated me. Therefore the course of Accounting has allowed me to obtain skills to further learn about business processes that will lead me to a career in accounting.
My interest in Information Systems grew as I became more aware of the ever-increasing technological advancements that are used in major aspects of business.
Not only that, I found both subjects interesting. I also believe that having a major in both would give me an excellent foundation in doing business in the unpredictable workplace.
As a five-year old, what did you think you wanted to be when you grew up?
I wanted to be a professional basketball player. However, I was already practicing buying and selling from the young age of seven with trading cards.
What do you look for in a professional mentor?
I'm happy to work with any professional mentor. It will be a privilege for me to even get such an opportunity. To make teaching and communication easier, I wish to have mutual respect and a willingness to learn and teach between my mentor and me. Even though our personalities may clash, I will still give my full respect and effort to learn from my mentor.
Reproduced with permission from CPA Australia
Copyright © 2016

A big fan of MOOC, I am intrigued by how technology has transformed education and makes learning fun again.