Swiss School in Singapore
Last Updated on 23 May 2023

The Swiss School in Singapore was founded in 1967 by Marie-Therese and Werner Kaufmann-Sialm and officially opened on 2 May with 18 children in Kindergarten and 10 students in primary classes. Slowly and steadily, the Swiss School has grown to a number of 280 students, a campus with three classroom blocks and a Multi Purpose Hall.
Today, the Swiss School in Singapore is a generously-designed, learning oasis that your children will enjoy exploring. A small, family-oriented school, located in a prime, lush environment, protected from busy streets, we offer ample space for playing and sports while preparing children for life with a holistic, primary education foundation. As an international school, we welcome and nurture children of any nationality, ethnic background or religion.
The Swiss School in Singapore provides education according to Swiss standards and criteria. Due to its high level of pedagogical quality, it is officially recognised by 'Bundesamt für Kultur' (BAK) as "Swiss Government Approved School". In our school, values such as social responsibility, open communication, respect for others, honesty and reliability are not just words but principles we adhere to daily in life and in teaching.
Classes are conducted in both German and English. Students of the Swiss School will be able to gain entry into a school in any German-speaking country, which can lead to obtaining a certificate upon completion of secondary school. In addition, the school prepares its students for a smooth transition to the United World College of South East Asia (UWCSEA), one of the school's affiliates, where they can obtain the International Baccalaureate Diploma, allowing them to study at universities worldwide later on in their career.
School Life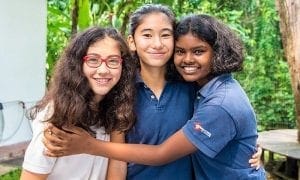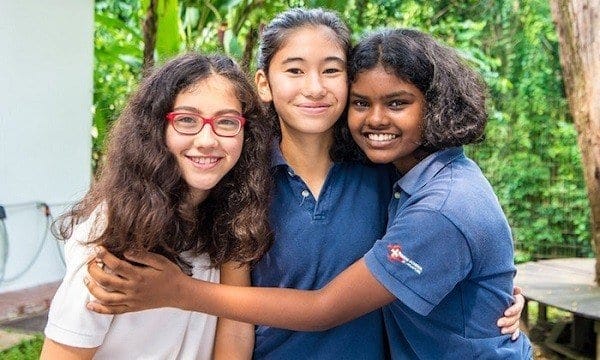 Life at the Swiss School in Singapore is enriched by numerous activities and events, which are an important contribution to the well-being of our children.
Our broad events calendar enhances everyday school life of our children, parents and staff. A wide range of Extra-Curricular Activities (ECAs) make the children's time after regular lessons attractive. The library invites everybody to linger and quench their thirst for knowledge while the Lunch Service feeds the hungry stomachs. Sports and play are just as important to us as the school bus that brings the children home after school.
Our Curriculum
Instruction at the Swiss School follows the Curriculum of the Canton of Zug and provides a well-rounded education in German and English.
At age 2, our youngest students begin their school education in Little Tots. Up to age 5 (Playgroup II), they are primarily instructed in English with German being introduced gradually. Playgroups I und II are conducted as mixed-age classes.
Thereafter, students start Kindergarten, which is part of the Primary School. This corresponds to the second Kindergarten year in the Swiss school system. Swiss home room teachers and English-speaking specialist subject teachers prepare students for Primary 1 in both German and English.
In Primary 1, reading and writing will be taught in German and English. Supplementary subjects such as Science and Swimming are taught in English. Moving into the higher grades, English gradually increases, providing a smooth transition from Primary 6 to the United World College of South East Asia (UWCSEA).
Admission
You can send us your Application Form for admission to SSiS anytime during the school year and we will accommodate your child, as quickly as possible, depending upon availability.
Application Process
Please complete the electronic Application Form and return it with all accompanying materials to [email protected].
The following items must accompany this application:
Copy of the child's passport
Copy of the immigration card (green card), if applicable
Copy of the child's most recent report card
Copies of any previously administered professional educational tests and results, if applicable
Photo of the applicant
Your registration is complete as soon as we have received the registration fee (non-refundable).


Swiss School in Singapore
38 Swiss Club Road
Singapore 288140
Tel: +65 6468 2117
Fax: +65 6466 5342
Email: [email protected]
Website: www.swiss-school.edu.sg
Facebook: SwissSchoolInSingapore
---
Want to be listed on our website? Head over to this page to submit your info online!