Last Updated on 1 October 2023
Founded in 2001, Insworld has a close working relationship with Pearson Edexcel, a fully accredited UK Exam Board and Awarding Body. Insworld Institute is a recognised Pearson Edexcel Centre of Excellence and is an Edexcel Approved Centre delivering Academic Qualifications. Pearson Edexcel GCE A-Level/IAL and IGCSE exams taken by Insworld students are recognised internationally by universities and employers as reliable assessments of academic achievement and potential.
Pearson Edexcel is regulated in the UK by Ofqual, the regulator of exam systems and standards in England and Wales. It must also comply with other regulators in the UK such as the Department for Education and Science and the Council for Curriculum, Examinations and Assessments.
Pearson IAL exams are modular. This means students can take exams in each module when they feel prepared to do well, and are able to re-take individual modules if necessary. It is possible to take Pearson Edexcel exams in January and May/June each year.
Our Facilities
Our school premises at the National Library Building and the North Bridge Centre have been designed to help us work in the most effective way with our students. We have 20 classrooms, including a Science Lab and an Art Room. These are ideal for Insworld's small class sizes and help promote the student-centred learning which is central to the way we operate.
Personal Tutor System
At Insworld, each student has a Personal Tutor; a member of staff who will monitor all aspects of their studies to ensure that they are making good progress. This helps us to set personal targets for all our students – those who may need extra academic support as well as the high achievers who need to be stretched and challenged intellectually.
Our Programmes
Our approach to education is based on the best practice in the UK. In addition to focusing on academic achievement, we promote the social, moral and cultural development of our students, together with team working and leadership skills, critical and creative thinking and an independent mindset.
We offer a range of programmes:
English for Academic Study (EAS)
Edexcel International Tuition Programme (EITP)
Pearson Edexcel International GCSE (year 11)
Pearson Edexcel GCE A-Level/IAL (pre-university)
Application Process
Be part of the Insworld Institute family and enjoy all the benefits that our school has to offer by following these four simple steps.
1. Check the entry requirements for your course
For minimum entry requirements for programmes offered by the school, please click here.
If you are unsure whether you meet the requirements, please contact us by phone or email. Our office is open from Monday to Friday (09:00 to 18:00).
2. Download and complete the application form
The application form may be downloaded here.
3. Provide the following:
An application fee of S$1,500. The application fee is non-refundable in all cases except in the event that the Singapore Ministry of Education should not approve the application of a Singapore citizen to study at Insworld Institute. In this event, the application fee is fully refundable.
One recent colour passport-size photograph (on white background).
Certified* copies of your most recent school results/transcripts and your highest school leaving certificate. (If original transcripts are not in English, please provide a certified translation).
For International Students: a photocopy of your International Passport and any other pass issued by ICA in Singapore.
For Singapore Citizens or Singapore Permanent Residents only; photocopy of your NRIC and/or your International Passport.
Photocopy of NRIC and/or International Passport of Parent(s) and Legal Guardian (if any).
*Certified means seen and authenticated by a member of Insworld staff, or approved agent of Insworld, the school that issued the transcript or a 3rd party with the legal power to certify documents in your country. All students must produce the originals of these documents for verification before commencing their studies at Insworld.
4. Submit your application
Our Campuses
100 Victoria Street, #08-02 National Library Building, Singapore 188064
420 North Bridge Road, #05-11/12 North Bridge Centre, Singapore 188727
"Flexible" Enrollment Dates
We have four enrolment dates each year (January, April, July and September) so that students can begin programmes at the time of year which suits them best.
Partnership With Parents
We value the support and cooperation of parents, and want to keep them as well-informed as possible about how their child is progressing at the school. To do this we regularly communicate with parents via email or through the Parent Portal on the Insworld Management Information System. In addition to end of term reports, we send parents/guardians a weekly report for each student detailing their grades for the weekly formal assessments in each subject and a grade for their effort in class, together with information about their attendance.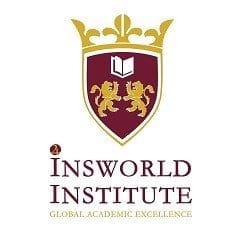 Tel: +65 6732 1728
Fax: +65 6299 5249
Email: [email protected]
Website: www.insworld.edu.sg
Facebook: InsworldInstitute
Twitter: @Insworld_SG
Instagram: insworldinstitute
Want to be listed on our website? Head over to this page to submit your info online!