Founded in 2000, Hong Kong Academy is a non-profit IB World School providing a highly personalised and holistic education for students aged 3-18 years old. We offer a wealth of co-curricular and interdisciplinary student opportunities, are the only school in Hong Kong offering the Global Citizens Diploma, and host the International Schools Theatre Association of Performing Arts, Hong Kong. Our specialist teachers and support staff know each learner as an individual, empowering every student to pursue their passions and fulfill their greatest potential. In addition to being an IB World School, HKA is fully accredited by the Western Association of Schools and Colleges, and the Council of International Schools.
A Community of Learners
Whether working in the gardens, acting as mystery reader, supporting an after school activity or going on a field trip, HKA parents are highly engaged and partner with the school to enrich the student experience on a daily basis. As well as being volunteers, HKA parents are partners in learning and as an educational leader HKA offers regular parent education events. Hosted by both HKA faculty and visiting specialists, parent education includes an extensive range of workshops designed to support parents, promote understanding and nurture students from playgroup to graduation.
HKA parents are highly engaged and partner with the school to enrich the student experience on a daily basis.
Sustainable campus
Our award winning campus was purpose built on sustainable principles employing durable materials and design which mirror our educational philosophy and inspire learning. The indoor and outdoor spaces are engaging, interactive and adaptable to the evolving needs of the curriculum and community whilst minimising our impact on the environment. HKA's comprehensive digital environment further enhances opportunities for student learning.
Programmes Offered
Primary School
HKA's youngest learners are immersed in a culture of thinking and learning through play, exploration and inquiry. Whether in our classrooms, on our playscapes or during field trips, students from Playgroup to Grade 5 are encouraged to know themselves and understand their role in the community. The IB Primary Years Programme framework guides both the content and the structure of learning. In addition HKA incorporates specialist subjects such as wellbeing, art, music, IT, library and research skills, Mandarin language and PE right from the start. Project-based learning and authentic service and action programmes are integrated into units of inquiry, building connections for students across subjects and nurturing global citizenship from an early age.
Secondary School Programme
HKA's concept-based, student-centred approach to teaching and learning continues into the IB Middle Years Programme, where learners in Grades 6-10 are encouraged to integrate knowledge, understanding and skills across a range of subject areas. We also provide a wide range of learning experiences through which they can explore their personal passions and build expertise in their areas of strength. Project-based investigations provide authenticity and sophistication within each of the IBMYP subject groups, and students are engaged in reflective conversations about when and how they use certain skills, building their self-awareness of their individual needs as learners.
Pathways to Graduation
In alignment with our mission and core values, HKA encourages each student to determine the best-fit pathway to graduation upon entry into Grades 11 and 12. All HKA graduates receive an HKA Diploma and Global Citizen Diploma, and the majority also seek external recognition by pursuing the IB Diploma; others opt to complete up to six IB courses. HKA graduates are able to effectively apply research, critical thinking and communication skills precisely, flexibly and intentionally across each subject area, and our low student to teacher ratio ensures a highly personalised approach to instruction through to graduation.
Most Unique Programme
Global Citizen Diploma
The Global Citizen Diploma (GCD) is a qualification that highlights the many ways that students engage in responsible action. Designed to validate the contributions of individuals and groups with the passion and perseverance to make positive change in their local and global communities, the GCD provides students with an opportunity to showcase up to 16 elements of global citizenship. Earning the GCD requires a process of deliberate reflection as students re-examine their experiences, synthesise their learning and make sense of their education which they can then share as a part of their post-secondary application process.
International Schools Theatre Association
HKA is the proud host of the International Schools Theatre Association, Performing Arts Academy. ISTA brings a range of opportunities for our students to create and connect through the performing arts and learn from world renowned artists through masterclasses and performance workshops.
Admission Criteria
HKA supports international families with year round admissions and enrolment. We value the opportunity to get to know prospective families and have discussions about our mission and values and what we offer as a school. We like to find out as much as possible about what families are looking for in a school and, if possible, hear from the prospective students themselves. To this end, we focus on providing one-to-one meetings and a tour of our exceptional school campus. Please visit our website or contact us to find out more about admissions and campus tours.
Admissions Advice
HKA operates a waiting pool based on the diversity goals for each classroom. Please visit our website to learn about fees and financial assistance.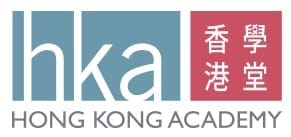 Hong Kong Academy
33 Wai Man Road, Sai Kung, New Territories, Hong Kong
Tel: +852 2655 1118
Email: [email protected]
Website: hkacademy.edu.hk/
Facebook: HongKongAcademy
Twitter: @hongkongacademy
LinkedIn: hong-kong-academy/
YouTube: hongkongacademy
---
Want to be listed on our website? Head over to this page to submit your info online!