Chinese International School
Chinese International School is located on the top of Braemar Hill, a quiet residential area noted for its many schools. The school derives much of its sense of community from its single campus focused around three central courtyards. Opened in 1991, the campus commands spectacular views of Victoria Harbor and the surrounding hills.
CIS is accredited by both the Council of International Schools (CIS) and New England Association of Schools and Colleges (NEASC). It is also a member of the Association of China and Mongolia International Schools (ACAMIS) and the National Association of Independent Schools (NAIS).
Child Protection Programme
CIS believes that every child has the right to grow up in a healthy, safe, secure and supportive environment.
The school endorses the United Nations Convention on the Rights of the Child (UNCRC) to which Hong Kong is a signatory, and seeks to be a positive learning community that promotes well being, free from hazards and harm. The school adopts a strict zero tolerance policy towards the mistreatment or abuse of children.We strive for balance among the disciplines and for balance between classroom and non-classroom learning.
Programmes Offered
Primary Programme
There are four learning goals that provide the framework for learning in Primary:
A Culture of Thinking
Balanced Literacy
Mathematical Fluency
Well-Being
These learning goals are informed by our extensive teacher participation in Harvard "Project Zero", Columbia Teachers College's "Reading & Writing Project", and our own Positive Education work with Professor Lea Waters.
Secondary Programme
Years 7 through 9 are foundational years focused on encouraging students to be active, open-minded, independent learners. Through a balanced curriculum, an extensive student affairs programme and a variety of co-curricular activities (CCAs), students are provided with a holistic learning environment that encourages life-long learning.
Years 10 and 11 are unique programmes that encourage students to develop greater self-knowledge while also becoming more active contributors to the various communities to which they belong. The Year 10 experience takes place at Hangzhou CIS and offers considerable scope for personalised, project-based and interdisciplinary learning, as well as a focus on service. In Year 11, students return to the Hong Kong campus and undertake a school-developed curriculum and assessment model, designed to bridge the gap between MYP and DP expectations, while aligning with the Hangzhou experience.
Years 12 and 13 maintain the whole-person approach, offering an academically challenging and engaging programme with a focus on helping students develop their intellectual curiosity, confidence, independence, and leadership capacity.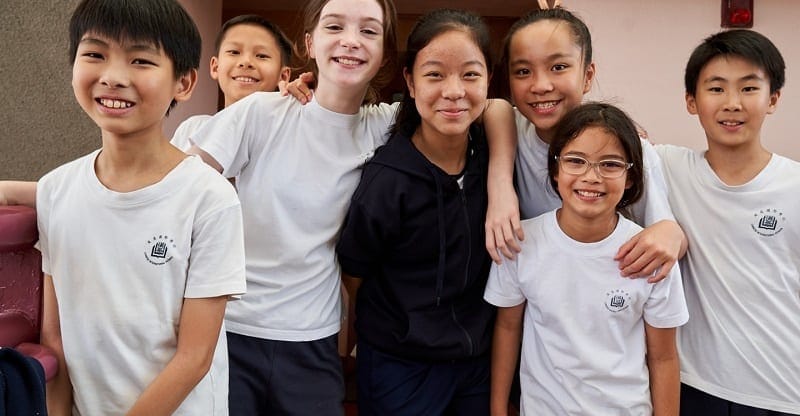 Admissions
For Reception
Applications will be accepted up to two years before the desired date of entry, but not earlier. The application period begins from 1 September, beginning two academic years prior to entry and closing on 1 October of the academic year prior to entry.
For Other Primary Years (Years 1-6)
Applications will be accepted up to one year before the desired date of entry, but not earlier. The application period is from 1 September to 28 February, beginning one academic year prior to entry. Please note that the number of places available for these years is extremely limited.
For Secondary (Years 7-13)
Applications will be accepted up to one year before the desired date of entry, but not earlier. The application period is from 1 September, beginning one academic year prior to entry, and continues on a rolling basis; however, applicants are encouraged to apply as early as possible. Please also note that that the greatest number of places available is for Year 7, when then are over 50 new places due to the fact that CIS Secondary is larger than CIS Primary.
Admissions Advice
We admit students at all year levels and warmly welcomes applications by all families. We seek to enroll a student body that is diverse in its ethnic, national and socio-economic composition and prepared to take on the demands of a rigorous and multifaceted academic programme in two languages – English and Chinese (Mandarin).


Chinese International School
1 Hau Yuen Path
Braemar Hill
Hong Kong SAR, China
Email: [email protected]
Website: www.cis.edu.hk
Tel: (852) 2512-5988 – Reception & Primary Applications / (852) 2512-5915 – Secondary Applications
Facebook: CISHK
Twitter: @cishk
LinkedIn: chinese-international-school
Instagram: cishk
Want to be listed on our website? Head over to this page to submit your info online!