10 Things About The Physics Cafe
What comes to mind when people mention The Physics Cafe? Effective? Helpful? Perhaps reliable may even be considered to be an understatement. For years we have grown in size and in strength to become a premium tuition centre in Singapore, specialising in Physics and Maths education for Secondary and JC students. Below are 10 facts and achievements that we have accumulated over the years:
Only 1 tutor is shortlisted out of 30 interviewed.
Each tutor is paid on average S$350 per hour. That's up to 3 times the pay of the average tutor in Singapore. What's more, our tutors undergo months of training before they are allowed to lead classes, so you can be assured that our tutors are top-notch and top-quality.
Our branch near Beauty World MRT is the second branch open to the public.
Good news for those staying in the west! As of May 2017, our new branch operating at the penthouse level of Bukit Timah Shopping Centre.
Our main school next to Toa Payoh MRT is half a football field in size, with our very own:
lecture theatre,
in-house cafe, and
shuttle bus service.

We hire ex-students as student councillors to assist in students matter.
If you are keen on joining us, you're welcome to drop us an email.
Registration for our classes are done strictly online.
This is to facilitate the registration process, and to make it more convenient for you.
Our Founder Principal Tutor, Mr Dave Sim, is the renowned physics super tutor in Singapore, with a teaching experience of 6 years at RI.
We'll let Mr Sim speak for himself here:
"I am the director and the head of academic. This switch (from RI to The Physics Cafe) means I can control exactly what and how you learn. I can test you my way. I can then let the results speak for themselves. It does not matter who you are or where you are from. I know that if I cannot help you, no one can. But of course, it's up to you to prove me wrong. Try to get a C or a D for your final paper!"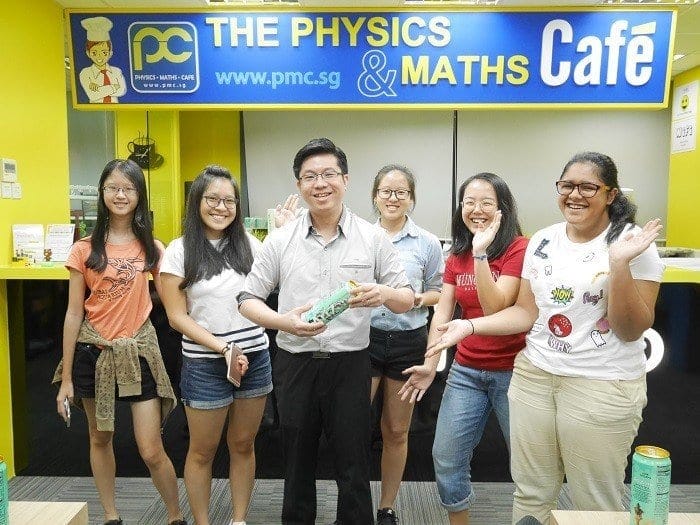 70% of our students are from IP schools.
Some of you may wonder if our lessons are suitable for students from the IP stream. Fear not! Our lessons here cater to both IP and non-IP students as the syllabus is the same. In fact, we have a good mix of students from both IP and non-IP streams and no one gets left behind.
At least 80% of our students scored A in Physics and/or Maths in the A levels – doubling the national average!
We are very very proud of our students who have done well in the A levels and would like to extend our heartfelt congratulations to the graduated batch of 2016. You have worked hard and gotten the grades you truly deserved. Good Job! Do visit our hall of fame to find out more.
9 out of 10 students scored a distinction in the Physics and/or Maths in the O-level exam.
Need we say more?
We have a yearly enrollment of 1,000 student!
Most of our students here are recommended by friends/family and we are very heartened by the support shown to us over the years. Read the reviews given to us by our ex-students and parents.
Testimonials
The Physics Cafe has given me, by far, the best tuition experience I've ever had. Mr Sim is able to understand and empathise with students' struggles and help us accordingly. He is patient and is always willing to answer any of our doubts. His teaching capabilities are simply put.. superior. He has the knack for explaining concepts in a way that anyone can understand by making it relatable. He draws links from chapter to chapter whilst going into the crux of every topic, allowing us to see the Physics syllabus from both macroscopic and microscopic views. In secondary school, Physics was always my most hated subject. I disliked how there seemed to be so many hidden elements to a single concept, and that none of my teachers could offer me reasonable explanations as to how things really worked. So yes, I memorised my way through 'O' Levels. Not fun. Boring. But I remembered being mindblown after my first lesson with the Physics Cafe. Gone were the "Don't ask so much, just answer like this" days. Mr Sim ensures that every possible lingering question any student has is answered. From then on, I started gaining confidence and interest in the subject. May I also say that the Physics Cafe has the best staff ever. And honestly, their planning skills are superb. You can always trust them when you need help. They take care of your welfare so well you'll start to wonder what else they can come up with. From shuttle buses home, free food, free coloured pens, to even a gigantic vending machine. I have no idea. Hands down the best. Just enrol. Right now.
– Pang Shihui, AJC
The notes from the Physics Cafe have been very effective in clearing my doubts and allowing me to finally understand every chapters for Physics, which is a subject I was once not confident of doing well. I have never gotten an A for Physics in JC since O levels, but having just joined TPC close to the middle of my second year in JC and scoring B's and even D's for Physics, I have finally achieved my aim of an A in Physics in just about one month (after going through the intensive June workshop) for my Common Test 2. I was very surprised when I first received my exam script from my teacher and was also announced as the top in class for Physics (for CT2)! I actually made a huge jump from a D in CT1 to an A in CT2 in just about one month. The lessons I've been through enabled me to be much more confident in handling Physics. This CT2 results was actually my first A in my JC life. I hope, with the remaining time left till A levels, I'll be better able to work on more challenging questions and securing an A for my prelims and subsequently, A levels.
– Koh Wen Hao, JJC
Dear Mr Sim, I am the mother of Moses Tan Jing Yuan,of Physics Class, C2. He is from HCJC. I want to thank you for your precious time you spent with Moses sometime back when he started to have Tinnitus. Your session with him certainly boosted his confidence and he began to believe in himself. He was very thankful for your advice and encouraging words. Moses would have faced huge obstacles and struggles if not for your belief in him, your kind words to which he held on and not to mention your very effective teaching tools in imparting your knowledge to him. He has always enjoyed being your student. For him, it was a last-minute race against time to better himself.
– Mrs Tan Lay Lay (mother of Moses Tan Jing Yuan, HCI)
"You will never believe something so difficult can be so simple."
– Mr Dave Sim, Head of Academic
Programmes Offered
We offer Secondary and JC Physics and Additional Maths. You may refer to http://thephysicscafe.com/classes/ for the programmes and schedule that we offer.
Duration of the lesson?
The lesson will be 2 hours once a week.
Registration Process
We do not have any admission exam for student. However, our seats are high in demand, hence registration is online-only.
Upon registration, you will receive an acknowledgement email. A confirmation email will invoice attached will be sent within three days after your online registration. Please note that the registration must be completed at least three days before date of the first lesson. You may submit the school fees on the first day of your lesson.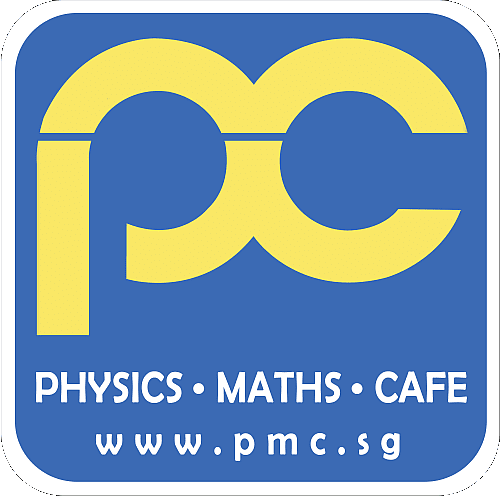 PMC JC (TPY) Pte Ltd
430 Lorong 6 Toa Payoh,
Orange Tee Building, #15-01,
Singapore 319402
Contact Person: Dave Sim
Tel: (+65) 9100 1235
Admission Email: admin@pmc.sg
Website: www.pmc.sg
Facebook: PhysicsCafe
Instagram: @physicscafe
YouTube: thephysicscafe
Locations
Toa Payoh
(3 mins walk from MRT)
430 Lorong 6 Toa Payoh,
Orange Tee Building, #15-01,
Singapore 319402
(Beside HDB hub and Hersing Centre, above Udders and Jack's Place)
Bukit Timah Shopping Centre
(1 min walk from Beauty World MRT)
170 Upper Bukit Timah Road,
#18-01
Singapore 588179