Incredible New Way To Learn Piano & Keyboard
Last Updated on 2 December 2022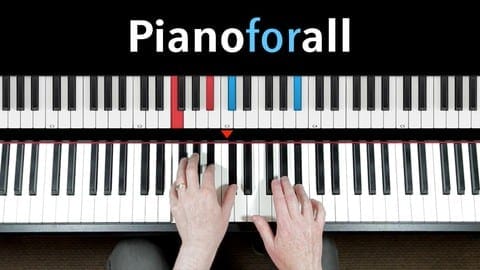 This course will help you learn piano in weeks, not years.
Imagine being able to sit down at a piano and just play – Ballads, Pop, Blues, Jazz, Ragtime, even amazing Classical pieces? Now you can… and you can do it in months not years without wasting money, time and effort on traditional piano Lessons.
One of the most popular online piano courses with over 300,000 students worldwide, Pianoforall will take complete beginners to an intermediate level in a very short space of time. You start with popular rhythm style piano (think of artists like Lennon & McCartney, Elton John, Billy Joel, Barry Manilow, Lionel Ritchie, Coldplay, Norah Jones and so on) which means you get to sound like a pro right from the start.
You then expand step-by-step into Ballad style, Blues, Jazz, Ragtime, Improvisation and creating your own melodies. You will even learn how to read music as you learn how to 'play-by-ear' and eventually you will be able to play some amazing Classical pieces.
Course Content
10 hours on-demand video
9 downloadable resources (600 pages)
Course Outline
The course is divided into nine very easy to follow sections:
Party Time – Play-By-Ear – Rhythm Style Piano (47 lectures, 1hr 33min)
Basic Blues & Rock 'n' Roll (11 lectures, 14min)
Chord Magic & Inversions (16 lectures, 36min)
Advanced Chords Made Easy (19 lectures, 42min)
Ballad Style & Improvisation (58 lectures, 1hr 24min)
Jazz Piano Made Easy (82 lectures, 2hr 35min)
Advanced Blues, Fake Stride & The Entertainer (47 lectures, 50min)
Taming The Classics (44 lectures, 55min)
Speed Learning (37 lectures, 1hr 12min)
You only need to practice 20 minutes a day to make rapid progress.
Supplemental Material
This course comes with exceptional supplemental material. Each video has an accompanying PDF that you can print out and set on your keyboard. There is a complete PDF e-book at the end of each section. It's very important to learn from printed instruction as well as video so that you can explore more written material after you finish the course.


Udemy is an online learning and teaching marketplace with over 80000 courses and 24 million students.