Last Updated on 9 July 2022
Funded by the UK Foreign and Commonwealth Office and partner organisations, Chevening Scholarships are aimed at outstanding scholars with leadership potential. The awards are typically for a one-year Masters degree in any subject.
Chevening Scholarships are available to students from more than 160 countries and territories worldwide (excluding the USA and EU). Since 2009, we have welcomed numerous Chevening scholars every year from around the world, including Afghanistan, Anguilla, Argentina, Brazil, Cameroon, China, Cuba, Egypt, Guatemala, Guyana, Hong Kong, Indonesia, Jamaica, Kiribati, Malaysia, Mexico, Montenegro, Nigeria, Pakistan, Russia, South Africa, South Korea, Syria, Thailand, Tunisia, Turkey, Uganda, Vietnam, West Bank & Gaza and Zambia. They have studied Masters degrees in a wide range of subjects in business, social sciences, law, health, psychology and engineering.
There are over 46,000 Chevening alumni around the world who together comprise an influential and highly regarded global network.
Eligibility Criteria
To be eligible for a Chevening Scholarship you must:
Be a citizen of a Chevening-eligible country
Return to your country of citizenship for a minimum of two years after your award has ended
Have an undergraduate degree that will enable you to gain entry onto a postgraduate programme at a UK university. This is typically equivalent to an upper second-class 2:1 honours degree in the UK.
Have at least two years' work experience
Apply to three different eligible UK university courses and have received an unconditional offer from one of these choices
Meet the Chevening English language requirement
How to Apply
Please navigate to your country's application centre in order to start your application. The video below shows you how to get there:
In order to submit your application, you will need the following:
Valid passport/national ID card
University transcripts and degree certificates (undergraduate, postgraduate)
Three different UK master's course choices
Please note that once your application has been submitted, it is not possible to change it retrospectively.
You may also wish to submit the following optional documents if you already meet the requirements:
English language test results http://www.chevening.org/apply/english-language-requirement
UK master's university offer
Value of Scholarship
A full Chevening Scholarship normally comprises:
Payment of tuition fees
Economy travel to and from your country of residence by an approved route for you only
An arrival allowance
The cost of an entry clearance (visa) application for you only
A departure allowance
A contribution of up to £75 for TB testing, where this is required
A travel top up allowance
A monthly personal living allowance (stipend) to cover accommodation and living expenses. The monthly stipend will depend on whether you are studying inside or outside London. These rates are subject to annual review.
However, the value of your scholarship may differ from the above if you are offered a part award by the embassy or high commission in your country.
Applicable Courses
Choose your three courses carefully as you won't be able to change them after submitting your application. You will need to apply separately to your selected courses directly via the university. To be awarded a scholarship, you must get an unconditional offer for one of your course choices.
In order to be eligible, the courses you choose must be:
Full-time
Start in the autumn term (usually September/October)
Taught master's (i.e. not research-focused MRes programmes)
Lead to a master's degree qualification
Based in the UK
The course cannot be:
Distance learning
Part-time
Less than nine months in duration
More than 12 months in duration
PhD or DPhil are not permitted
Application Deadline
Chevening scholarship deadlines varies according to the academic year. However, it is usually in October of each year.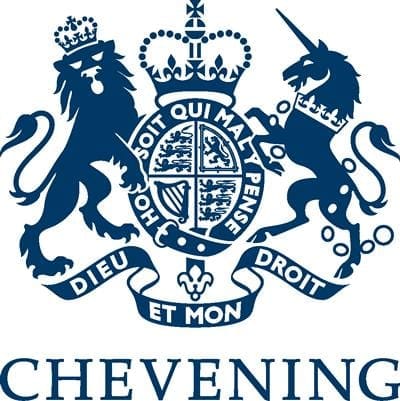 Chevening Scholarships
Foreign and Commonwealth Office
London, United Kingdom 
Website: www.chevening.org
Facebook: Chevening Scholarship
Twitter: @cheveningfco
LinkedIn: Chevening Scholarships
Instagram: cheveningfco
To view the full list of Chevening university partners, please visit this page.
Want to list your scholarships on our website? Head over to this page to submit your info online!