Management Development Institute of Singapore (MDIS)
Last Updated on 30 March 2023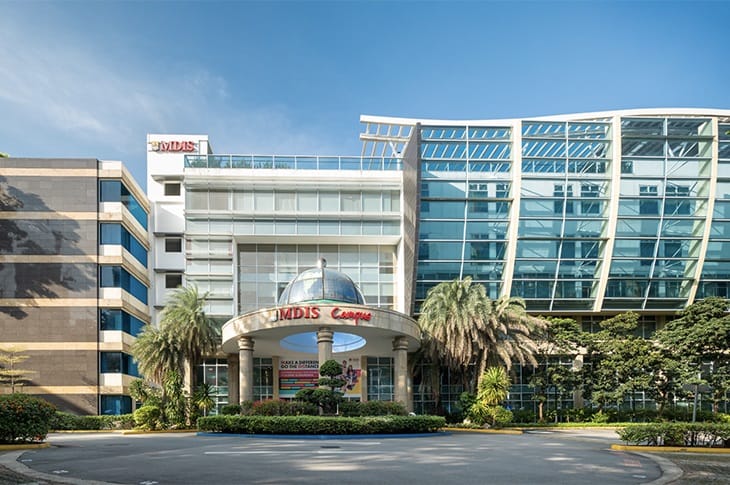 Founded in 1956, Management Development Institute of Singapore (MDIS) is Singapore's oldest not-for-profit professional institute for lifelong learning. MDIS offers internationally-accredited bachelor's, master's and doctorate degree programmes with renowned universities in the United Kingdom and the United States. The institute also offers comprehensive preparatory courses for pre-tertiary students from Admissions Exercise for International Students (AEIS) to GCE A-Level.
MDIS is EduTrust certified, attesting to its exemplary education and business excellence standards. The institute was first awarded the certification in 2010 – subsequently renewed for four years in 2014 and 2018. MDIS was also one of the first Private Education Institutions (PEIs) to be registered under the Enhanced Registration Framework.
Diverse Student Community
MDIS is a melting pot of cultures with local and international students from all around the globe from countries such as Russia and Korea. With a diverse student community, MDIS also has a 15-storey hostel on campus for students to live, learn and play in an interactive and conducive environment.
Programmes Offered
MDIS offers more than 70 programmes from diploma to doctorate with our eight globally recognised university partners. Students can choose from over 10 disciplines such as Business, Fashion and Design, and Life Sciences.
Students can graduate from MDIS with a multi-disciplinary education that focuses on future-ready skills thanks to its industry-focused curriculum. To enhance some of our student's learning experiences even further, some programmes have dedicated on-campus practicum facilities that students can use to prepare themselves for their career.
With the ongoing pandemic and more variants surfacing, the demand for healthcare and life science courses have increased. MDIS offers disciplines in the following sectors and are fully equipped with state-of-the-art laboratories to enhance students' learning experience.
At the MDIS School of Health and Nursing, students can pursue a Bachelor Degree in Healthcare Management and further their studies with a Masters in Healthcare Management.
On the other hand, at the MDIS School of Life Sciences, students passionate in the field of life science and medical field can pursue a Bachelor's Degree in Biomedical Science.
Apart from science-related programmes, MDIS also offers the following unique courses:
Admissions
The entry requirement differs depending on the course. Students can check out each faculty to see what each offer and explore their course of interest before applying. Applicants have to take note on the criteria depending on their status as local or international students. All students can speak to an MDIS education consultant to find out if they meet the entry requirement and get their assistance to submit an application.
Admissions Advice
In addition to meeting the minimum academic entry requirement, students also need to meet the minimum age requirement and fulfil their English language requirements.
Important Deadlines & Fees
All courses offered in MDIS itself have various intake periods within the year. It is important that students prepare their documents and submit their application on time in order not to miss the next available intake. To make an application, students can directly go to the programme page on MDIS website and pay an application fee. At a later stage, students also need to arrange for payment of tuition fees.
COVID-19 Updates
MDIS has adapted to providing students with online classes to continuously support them in the midst of the pandemic. With the reopening of activities in 2022, MDIS will continuously ensure that the well-being of students is taken care of by providing a safe and conducive learning environment.


MDIS Campus @501 Stirling Road, Singapore 148951
Tel: +65 6247 9111 (Academic Programmes) | +65 6796 7503 (International Students) | +65 6278 8000 (General Enquiries)
Email: [email protected] (Local Students) | [email protected] (International Students) | [email protected] (General Enquiries)
Website: www.mdis.edu.sg
Facebook: mdis.sg
Instagram: mdis_sg
LinkedIn: Management Development Institute of Singapore
YouTube: MDISSG
Telegram: MDIS_SG
WeChat: mdis.org
Want to be listed on our website? Head over to this page to submit your info online!