MAGES Institute of Excellence
Last Updated on 19 June 2022
Located at Orchard Road, in the heart of Singapore, MAGES Institute of Excellence is a registered private education institution that provides tertiary level coaching in Animation, Game Design and Computing – all rapidly developing sectors in Singapore and around the world. MAGES is focused on national and international student cohort to stimulate a multi-cultural learning environment for the best possible creative learning experience. MAGES encourages cultural diversity and currently has students from different nationalities ranging from Germany to Australia.
MAGES is established to fulfil the demand of professionals required in the Gaming and Animation Industry. An acronym for Media, Animation, Gaming and Entertainment Systems, MAGES also means "Magic" in Latin.

Courses Offered
MAGES offers Diploma, Advanced Diploma, Post Graduate Diploma, Degree Pathways and Professional short courses. Through our programmes, we cater to both students and professionals passionate about creative technology. We strongly believe that a holistic education, which incorporates both academic rigor and practical knowledge, is a critical cornerstone of success. To further ensure that our courses stay relevant to the latest developments, we work closely with industry experts. Whether the students choose full-time or part-time study programmes at MAGES, they can be assured of our commitment to deliver world-class learning experience.
Why MAGES?
Industrial Guidance
Industry professionals work with MAGES to give you a first-hand experience of the Animation & Game industry even before you graduate. The curriculum of MAGES's programmes is designed and revised from time to time with input from these professionals making it relevant for the industry.
Lecturers at MAGES are either existing practitioners or are the ones who have years of industry experience.
Work Experience and Portfolio
Students work on various projects to build their portfolios before setting in the industry. They may join the students' extra-curricular interest groups to create your own projects with help from schoolmates, graduates and lecturers; go on field trips to visit places related to the Game & Animation Industry; participate in technological researches initiated by industrial professionals.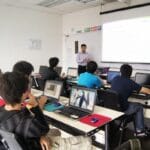 Low 9:1 Student-to-Lecturer Ratio
This helps to:
Ensure personal attention to students;
Make it easier for the lecturer to match student pace of learning and provide special guidance if necessary;
Give students an opportunity to know their peers and lecturers better.
Specialised in Gaming, Animation and Motion Graphic Design
We provide professional coaching in areas of animation production, motion graphics and game development. To ensure that our students get the maximum exposure to the latest developments in these areas, we have industry experts addressing students from time to time in Master Classes tomake sure that students are up to date with the devlopments in job market.
Centralised Location
MAGES is located in the heart of business and shopping district of Orchard Road. Its central location and just three minutes walk to Somerset MRT station, making it approachable from any part of the town.
Admission Process (Local Students)
Step 1: Pre-Course Counselling
Interested students have to contact our consultants/appointed agents for a pre-course counseling session. Once the student decides to enroll, they will be counselled and interviewed by our academic manager and head of department respectively.
Step 2: Application Submission & Registration
Fill up the MAGES Student Application Form with the following documents:
2 recent colored passport-sized photographs
Photocopy of NRIC / Passport (page containing photograph)
Copies of academic transcripts (e.g. Class 10 or Class 12 results slip)
Copy of testimonial from school or employer
Application Fee of SG$267.50 (including GST)
Step 3: Application Evaluation
All applications will be evaluated and successful applications will receive an "Letter of Offer" from MAGES.
Step 4: Acceptance of Offer
Successful applicant will receive a letter of Offer and will have to submit the signed and completed copy of the following documents:
Letter of Acceptance
Advisory Note (Form 12)
Standard PEI Student contract
Step 5: Course Fees Payment
Admission Process (International Students)
Step 1: Pre-Course Counselling
Interested applicants have to contact our consultants/appointed agents for a pre-course counselling session. Once decides to enrol, they will be counselled/interviewed by our academic manager or head of department.
Step 2: Application Submission and Registration
Fill up the MAGES Student Application Form and submit with the following documents:
Passport showing full particulars
Birth Certificate*
Highest Education Qualification Certificates/Transcripts of Records*
2 recent coloured passport sized photograph
Application Fees of SG$ 535.00 including Goods & Services Tax (GST)
Portfolio ( If required)
Documentary proof of financial ability of applicant/parents in the form of bank statements/fixed deposit accounts/savings accounts to support education and living expenses in Singapore.
Applicant's or parents employment letter (in case of minors)
* Photocopy (notarised and translated if not in English).
Step 3: Application Evaluation
All applications will be processed, evaluated and accepted subject to approval. Successful applications will receive an official "Letter of Offer" from MAGES.
Step 4: Student Pass Application
MAGES will apply for the Student Pass with Immigration and Checkpoints Authority (ICA) of Singapore on your behalf. The processing time for Student Pass application is about 4 weeks upon receipt of the application by ICA.
Note 1: After receiving your signed Letter of Acceptance and provide the following documents:
Duly signed and completed ICA Student Pass Form16 and V36.
All the documents mentioned above in Step 2.
Note 2: Important instructions for the document submission:
The students must sign all Forms. For applicants below 18, parents or guardians will sign.
Dates MUST be consistent across all documents.
Details to be provided in case of gap between studies or work
Step 5: In-Principle Approval Letter
Once Student Pass is approved an In-Principle Approval (IPA) Letter will send to student by email. The IPA letter is valid only for 2 months from the date of issue. Students should arrive at least 10 days in Singapore before their course commencement date for an e-appointment with ICA to complete the Student Pass Formalities.
Step 6: Student Pass Collection
MAGES will book an e-appointment for the collection of student pass. Students are advised to be punctual for their appointments. At ICA, the student will have to bring the following:
ICA In-Principle Approval (IPA) Letter
ICA Medical Report Form and the original copy of the laboratory report
MAGES Offer Letter
Passport with a valid Visit Pass
Passport size photograph
Original Birth Certificate
Original Education Qualifications
Print out of duly signed Student's Pass application e-Form16 & V36 by the student
Step 7: Course Fees
Course fees to be paid in Escrow account after collecting the Student Pass. It can be paid by Bank Draft, Cheque or Telegraphic Transfer.

MAGES Institute of Excellence
181 Orchard Road
Orchard Central, #06-11
Singapore 238896
Tel: (65) 6592-6736
Email: [email protected]
Web: mages.edu.sg
Facebook: MAGES.Institute.of.Excellence
Want to be listed on our website? Head over to this page to submit your info online!