Asian University for Women

Located in Chittagong, Bangladesh, Asian University for Women (AUW) exists solely to educate and empower a rising network of women leaders through the transformative power of American-style liberal arts and sciences education. Open to women from all walks of life, AUW particularly encourages women who are the first in their family to get university education.
Financial and organisation support for AUW comes from the United States, United Kingdom, Singapore, Japan, Hong Kong, South Korea, Australia, and beyond.
Global Impact
AUW is a vibrant and diverse residential learning community where incredible women from many cultural and religious backgrounds grow both intellectually and personally and become impactful, innovative, and service-oriented leaders. AUW recruits students from Afghanistan, Bangladesh, Bhutan, Cambodia, China, India, Indonesia, Malaysia, Myanmar, Nepal, Pakistan, Palestine, Sri Lanka, Syria, Vietnam, and Yemen.
Academic Programmes
At AUW, students gain relevant, interdisciplinary knowledge across multiple fields. They are empowered to think critically, communicate effectively, and work intelligently to address global issues with innovative and bold solutions.
Access Academy
Access Academy is a non-degree bearing flagship year of pre-collegiate courses focused on English communication skills, critical thinking, problem-solving, and strategies for lifelong learning. The programme is designed to help students overcome prior deficits in their educational background and prepare for success in AUW's Undergraduate Programme.
The courses at Access Academy include Computer Literacy, Geography, Language & Composition, Pre-Calculus, Reading Across Disciplines, and World Civilizations. It also features a required Leadership Seminar and Martial Arts training.
Undergraduate Programmes
Our Undergraduate Programme offers students the opportunity to gain relevant, interdisciplinary knowledge across multiple fields. Benchmarked against the most prestigious liberal arts colleges in the world, the AUW curriculum is designed and delivered by an international faculty who embrace the mission of AUW and contribute a significant effort to individualised student mentorship. Alumnae of the Undergraduate Programme are prepared for graduate studies and immediate employment at elite institutions throughout the world.
Admissions
Who Can Apply
The university is required under its Charter to make reasonable efforts to recruit up to 25 percent of the student body from Bangladesh, but it is otherwise committed to bringing together young women from the entire region – primarily South, Southeast, and West Asia. The University also accepts "stateless students" and exchange students from the United States, Europe and East Asia, as well as others from outside Asia.
To be considered for admission, an applicant should generally:
Have completed 10+2, a total of 12 years of education;
Have demonstrated leadership potential and a commitment to work for positive social change;
Have received an average of 60% of marks or equivalent grades in the final examinations, including a minimum score of 60% on both English and mathematics exams;
Have demonstrated leadership ability through participation in extra-curricular activities and public service.
How to Apply
To apply for undergraduate study at Asian University for Women, you must submit an application through our online portal. Full details of the application process and answers to frequently asked questions can be found in the online portal.
Entrance Exams and Interviews
AUW reviews applications holistically, focusing on academic excellence, leadership potential, and personal context as demonstrated by their prior academic performance, record of extracurricular activities and community activities, and personal statement.
Shortlisted applicants are invited to sit for a locally administered entrance examination and interview. The entrance examination measures an applicant's current ability in English communication, mathematics, and critical thinking. The purpose of the interview is to observe and evaluate qualities that may not be evident in the applicant's examination scores or application forms. These qualities include but are not limited to:
An open and inclusive attitude toward those from different countries, cultures, and socio-economic backgrounds;
Integrity, courage, and resilience in the face of adversity;
Deep motivation to learn and collaborate with others;
Passion and curiosity about the broader world beyond one's career prospects;
A sense of gratitude for those who have aided in one's personal growth and success;
Clarity of thought and vision, and an awareness of one's goals for themselves and their communities.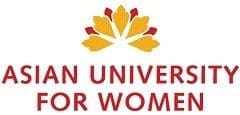 Office of Admissions
Asian University for Women
20/G M.M. Ali Road
Chittagong—4000, Bangladesh
Tel: +880192-667-3016
Email: [email protected]
Facebook: asianuniversityforwomen
Twitter: @AUW_Chittagong
Instagram: auw_chittagong
LinkedIn: asian-university-for-women
YouTube: auwfilms
---
Want to be listed on our website? Head over to this page to submit your info online!