Aventis School of Management
Aventis School of Management was established in 2007 in Singapore to promote the growth of human capital development in Asia, and is affiliated with the European Foundation for Management Development (EFMD) and European Council for Business Education (ECBE). Through its close collaboration with professional bodies including the Chartered Institute of Marketing (CIM UK) and American Association for Financial Management (AAFM), Aventis's qualifications are recognised internationally. With a rich industrial heritage, Aventis sets itself distinctively apart from other business schools through its commitment to delivering practice-driven curriculum.
Aventis School of Management is also a member of the Executive MBA Council, an international management council established in 1981, with the support of the Association to Advance Collegiate Schools of Business International (AACSB International) to champion the advancement of executive education internationally through partnerships, research and outreach activities.
Global Collaboration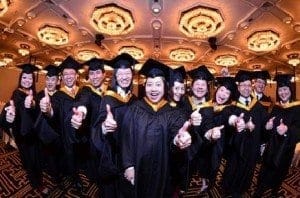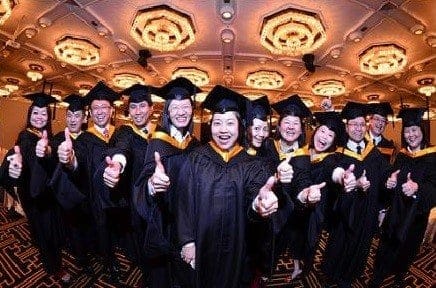 Aventis collaborates with Baruch College (City University of New York), California State University (Sacramento) and Kingston University London to offer an extensive suite of Executive MBA, MSc and Bachelor degree programmes across various disciplines such as Finance, Marketing, Human Resources & Global Leadership, Industrial & Organizational Psychology and Information System and Business Computing.
Real Solutions to Business Challenges
At Aventis, we believe that business concepts and theories are only effective if they can be converted into applicable business strategies. Business leaders gather annually at Aventis' events to share the latest knowledge of business issues, challenges and solutions. We offer an unsurpassed experience in accelerated learning that fosters both intellectual growth and development to meet current and future challenges of businesses around the world. Students work closely with peers as well as the faculty to form life-long friendships and business partnerships. Aventis' unique approach of integrating research with cutting edge business innovation also allows business leaders to put their acquired knowledge to the test in the business world, providing real solutions to real challenges.
Admission Procedures
Application has never been easier. Just visit this page, fill in your details and upload your CV.
Courses Offered
Masters & MBA
Since 1967, Baruch College, The City University of New York has bestowed more than 950,000 associate, baccalaureate, masters and doctoral degrees. Baruch College, The City University of New York's proud academic excellence produces graduates and leaders across all sectors including 13 Nobel laureates, the highest amongst US public universities. U.S. Secretary of States, Supreme Court Justice, several mayors, members of Congress, state legislators, scientists, astronaut, actors, singers, composers, writers and inventors are among the outstanding alumni. More top U.S. corporate executives earned their bachelor's degrees at The City University of New York than at any other universities in the country, according to the most recent national survey conducted by Standard & Poor's.
Baruch College, The City University of New York Executive Master of Science programme is one of Singapore's most established US Masters programmes with over 12 years of successful track record and over 1,000 alumni from across Asia.
Executive MSc I/O Psychology & Management of HR
Baruch College, The City University of New York Executive MSc IOP & HRM is the first executive format Industrial Organizational Psychology & Management of Human Resource programme in the Asia-Pacific with over 10 years of successful track record.
The strategic combination of both IOP and HR gives you the best of both worlds. This programme is designed to equip you with the know-how and tool-kits to drive organisational goals using HR Analytics, Personnel Psychology and Talent Management.
Executive MSc Marketing
With the proliferation of CRM, ecommerce, social media, loyalty programmes, marketers have more customer data than ever. Focusing on digital marketing, business analytics, and global branding, this is one of the world's most innovative Executive Master programmes which combines the fundamentals of a top MBA education with marketing as the core business strategy driving organisational growth.
This programme is designed for busy marketers or business leaders who wish to sharpen their marketing acumen and business analytical skills.
Executive MSc Finance
The Executive Master in Finance is tailored for professionals in international business, corporate finance and investment management to learn real world financial and investment decision making.
The programme is underpinned with a global perspective and the latest insights from Wall Street and the emerging Asian market. You will emerge with the skills to excel in the highly complex and dynamic financial sector.
Diploma
Our diplomas are designed to give you a strong foundation to build upon for your future academic and professional pursuit.
Specialist Diploma in Applied Psychology
The Specialist Diploma in Applied Psychology is a practically oriented and stimulating programme designed for candidates with little or no prior counselling or psychology knowledge. The programme provides a general background of psychology as a discipline and of the impact of psychology on our society.
Postgraduate Diploma in Business Administration
The Postgraduate Diploma in Business Administration is tailored to equip graduate students with management skills which are important for decision making and organisational development. It seeks to prepare them for higher managerial responsibilities and serves as an excellent platform for students to build their knowledge and fundamentals on the essential aspects of management and business practices.
Graduate Diploma in Accounting & Finance
Graduate Diploma in Accounting & Finance is tailored for company executives, managers and business leaders who wish to enhance their financial knowledge and skills which are important for strategic decision making and better career prospects. Participants may come from non-financial backgrounds such as marketing, sales, computing, engineering, law and human resources.
Graduate Diploma in Training & Development
Graduate Diploma in Training & Development is a practical-oriented programme ideal for HR professionals or non HR executives seeking a rewarding career in training, HR development, career management and other related fields. The programme aims to develop HR professionals, trainers, consultants and senior executives with instructional and practical skills to analyse, design and deliver competency-based training programmes and assessment using global best practices as a benchmark for success.
Graduate Diploma in Organizational Psychology
Graduate Diploma in Organizational Psychology is designed to equip HR & industry practitioners with the knowledge to use organisational psychology at work to deliver win-win solutions that benefit both organisation and its employee. This is a practical oriented programme focused on delivering business solutions to improve organisational fit, employee engagement and long term business success.
Graduate Diploma in Digital Forensics and Cyber Security
Graduate Diploma in Digital Forensics and Cyber Security is the application of science to questions that are of interest to the legal system. Digital forensics is the analysis of computers and other types of digital media to determine if they have been used for illegal or unauthorised activities, or if they are the "victims" of illegal attacks.
Graduate Diploma in Counter Terrorism and Security
Graduate Diploma in Counter Terrorism and Security seeks to improve professional standards by deepening students' understanding of the history and motivators of terrorism, and thereby developing their ability to critique current (and anticipate future) terrorist threats and possible counter terrorist measures.
Notable Alumni
John Honeyman Executive Director JP Morgan, Asian Equities EMsc Finance



"I joined investment banking about 10 years ago. I joined as a mid-career executive and so I didn't go through the typical graduate entry training. What I know about my business is what I basically picked it up on my own , so I believe this is the right time to pick up a formal education in finance. There were a couple of different programmes that were offered in Singapore, but what I wanted was short duration course that is very specialised in specifically what I needed to know. I get a chance to meet people who don't come from the same background. In my cohort, I have course mates from marine trading, insurance business, and a couple of university lecturers. It's a chance to actually see the world from quite a different point of view."
Eileen Seah (Class of 2012) Global Head of Talent & Learning Thomson Reuters Asia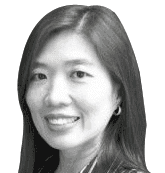 "Although most professionals have built a broad understanding of HR management through their many years of hands-on experience, many still lack the in-depth theoretical knowledge that is required in their job. The accessibility of the IO Psychology programme offered by Baruch College, The City University of New York in the same home country is a key success factor in achieving work-life-study balance whilst an overseas academia is imperative in broadening our perspectives and responses to organisational challenges. Definitely a must for those who wish to rise the management ranks or specialise."



Aventis School of Management
100 Orchard Road #04-100,
Concorde Hotel, Singapore 238840
Tel: (65) 6720 3333 / (65) 6822 2050
Fax: (65) 6720 2222
Email: [email protected]
---
Want to be listed on our website? Head over to this page to submit your info online!