Last Updated on 26 July 2022
Bangkok Patana School is Thailand's first and largest British international school for students from two to 18 years. Under the stewardship of committed parents and dedicated staff members, our not-for-profit school has remained at the forefront of education in Thailand and is today one of the most respected educational establishments in South East Asia.
Duke of Edinburgh's International Award
We offer this world-renowned programme that encourages students to try new skills, complete community projects and complete an adventurous journey. We now have a robust programme at the Bronze, Silver and Gold Levels with students complete adventurous journeys in hiking, kayaking, cycling and sailing. Students also undertake community projects and learn new skills forcing them to push their boundaries.
School Excursions
Beyond sports competitions and the International Award journeys, students may also partake in Drama trips, Modern Foreign Language or History trips, or arts and music festivals. The Ski Trip, usually to Verbier in Switzerland is a highlight as well.
Junior Enterprise
Secondary students go through the process of looking for a market niche, product development, launch and sales. Market Days give the students a chance to test their products and make sales. Proceeds go to local charities.
Programmes Offered
We follow the British national curriculum up to Year 11 and the International Baccalaureate in Years 12 and 13.
Primary School
The Primary School uses a progressive, British-based approach to education to instil a love of learning in all areas of work and play, through a broad and balanced curriculum. Specialist teachers of Music, Art, PE, ICT, Thai culture and Modern Foreign Languages work alongside the class teachers to provide a broad and well-structured programme.
Secondary School
Students enter the Secondary School from the age of 11 and in Years 7, 8 and 9 – collectively referred to as Key Stage 3 – follow a course of study which provides a broad and balanced range of learning experiences. The content of the National Curriculum is modified to take account of our position in South East Asia, but the basic skills and concepts remain the same.
Students in Years 10 and 11 follow a two-year programme leading to the General Certificate of Secondary Education (GCSE) or its international equivalent, the IGCSE. The subjects available to students Key Stage 4 students have been selected with the intention of providing a broad and balanced curriculum, which provides an excellent foundation for the Senior Studies progamme. Senior Students follow the International Baccalaureate (IB) Diploma programme or can choose to follow a modified version resulting in the Patana certificate.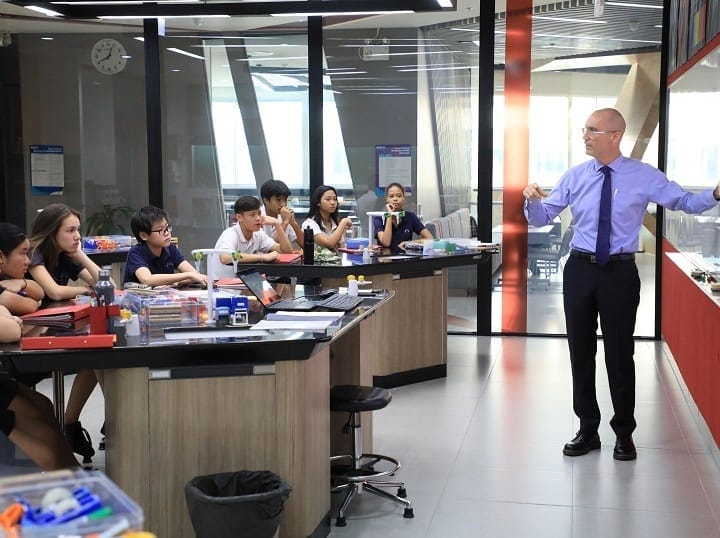 Application Criteria & Procedures
Application Process for Non-Thai Students
Application Process for Thai Students
Priority is given to those who, by virtue of their previous education experience, have no choice but to attend an English-speaking international school. Children must, however, be fluent in English or be at a stage where they can achieve fluency given specialist support.
Our intake of Thai students is limited to approximately 20 percent, and due to the high demand for a small number of places we have a slightly different application process for Thai nationals. This ensures that we have the most up-to-date information regarding potential applicants. We realise that some of our applicants may be of dual nationality – if you are unsure about which nationality you should apply under, please contact our Admissions Office for clarification before submitting an application.
COVID-19 Measures
Apart from the mandatory temperature scans and wearing of face masks, families who have been to or come in contact with anyone who has travelled from outside Thailand over the past 14 days or have come into contact with a PUI (person under investigation) are asked to self-quarantine before coming onto campus.
Journey to School
Bangkok Patana School operates its own school bus service to provide safe and efficient journeys between home and school. The service is offered across an extensive part of the city but cannot be guaranteed to all districts. There is a dedicated bus monitor on each bus to ensure a safe journey. Bus monitors also escort our youngest children to their buildings at the start of school.


643 Lasalle Road (Sukhumvit 105) Bangna Tai,
Bangna, Bangkok 10260, Thailand
Email: [email protected]
Tel: +66(0) 2785 2200
Website: www.patana.ac.th
Facebook: bangkokpatanaschool
Twitter: @BangkokPatana
YouTube: Bangkok Patana School
Instagram: bangkok_patana_school
Want to be listed on our website? Head over to this page to submit your info online!