University of Southeastern Philippines
Last Updated on 1 April 2023
The University of Southeastern Philippines (USEP) became operational in 1979 integrating the four state institutions in the region: the Mindanao State University-Davao Branch (MSUDB), the University of the Philippines Master of Management Program in Davao (UPMMPD), the Davao School of Arts and Trades (DSAT) and the Davao National Regional Agricultural School (DNRAS).
The integration of these institutions paved the way for the birth of the five USEP campuses namely: the Davao City main campus in Obrero; the Mintal campus, Davao City; the Tagum-Mabini campus, which has two units — one in Tagum City and one in Compostela Valley Province; and, the Bislig campus in Bislig City, Surigao del Sur.
Ladderized system of education
USeP is the first institution in the region to implement the ladderized system of education that allows graduates of technician courses to proceed to the Engineering Program. This is along the thrusts of TESDA and the government in order to provide wider access to higher education.
The University also has an Equivalency Program that allows professional and government workers to earn degrees. The Expanded Tertiary Education Equivalency and Accreditation Program (ETEEAP) is an educational assessment scheme which recognizes knowledge, skills, and prior learning obtained by an individual from non-formal and informal education experiences.
Academic Programmes
The USEP offers graduate and undergraduate academic programs in the fields of engineering, education, arts and sciences, economics, business, computing, governance, development, resource management, technology, agriculture and forestry.
Colleges
College of Arts & Sciences
College of Business Administration
College of Education
College of Engineering
College of Technology
Institute of Computing
School of Applied Economics
Admissions
Prospective students must gain official admission to the university and must complete the enrollment process which includes advisement, registration, and payment of fees.
If you are keen to be one of our students, check out the admission requirements for freshmen, upper classmen, transfer students, cross enrollees, former students and foreign students..
Scholarships & Financial Aid
There are university-funded and externally-funded scholarships available for the students of the university. Visit this page to view the full list.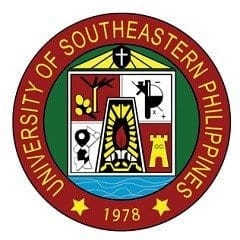 University of Southeastern Philippines (USeP)
Iñigo St, Obrero, Davao City, Davao del Sur
Tel: (082) 225-4696
Email: [email protected]
Facebook: USePCampus
Twitter: @USePCampus
Want to be listed on our website? Head over to this page to submit your info online!