[IE University] Bachelor in Business Administration
Last Updated on 23 May 2023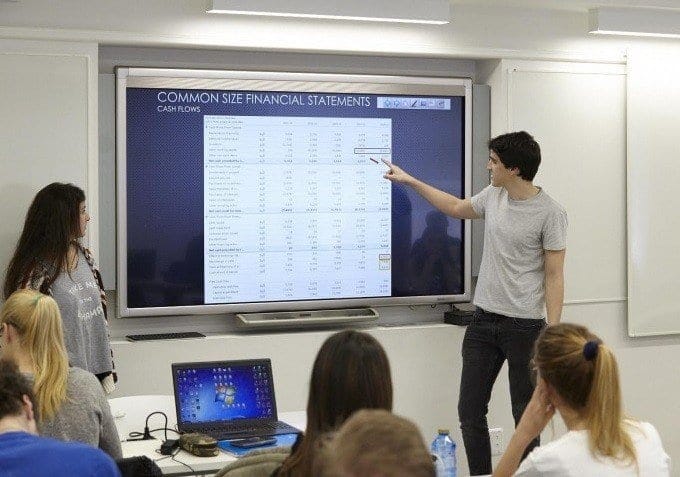 The Bachelor in Business Administration is an innovative, international programme that will help you develop the necessary business acumen to pursue a successful career as an entrepreneur, or in a multinational organisation. This prestigious programme, designed by the top-ranked IE Business School (accredited by AACSB, AMBA and EQUIS), seeks to create a new generation of business professionals ready to lead international organisations.
You can study the Bachelor in Business Administration in Segovia and Madrid. If you decide to start in Segovia, you will spend Year One and Two at the campus in Segovia, before moving to Madrid for Year Three and Four. If you start the programme in Madrid, however, you will spend all four years of the programme in the Spanish capital.
Success in global business depends on our ability to communicate. With this in mind, the Bachelor in Business Administration seeks to immerse students in the real-world conditions of the international business markets. The programme is taught entirely in English in order to prepare students for future careers in top organisations. For students looking to improve their English skills, we offer a special Language Proficiency Track (LPT) in year one to help students progressively adapt to studying in English.
Course Duration
4 years, Full-time
Course Outline
Our unique teaching model connects theory with practice across all areas of the programme. You will learn directly from business leaders and industry experts who will guide you through real-life projects. The IEU Labs will provide you with internship-like experiences on campus, allowing you to work in consultancy and research for leading companies and organisations. Internships and other hands-on projects will round off your practical experience and help you develop the skills needed to have a successful career in business.
First Year
During the first year, you'll learn all the fundamental concepts needed to start building a specialised business administration profile. You will learn the basics of Economics, Mathematics, Management, Marketing, and Technology. You will also have a first look at Accounting and will study in depth both Financial and Cost Accounting. This is the perfect moment to start building your own path to success by tailoring your degree with IEU Labs and participating in social impact projects.
Second Year
During your second year, you will deepen your knowledge of management, obtaining a bigger and clearer picture of how organisations and businesses truly work. Through classes like Management Control, Business Decision Making, and Accounting for Decision Making, you will start developing the knowledge needed to understand how the different business functions impact overall performance. You will also have a first glance at the exciting world of insights by studying
market research techniques and their applications to consumer behaviour. Also, during your second year you will have the opportunity to do an internship.
Third Year
As you progress in your studies, you will start developing strategic management skills through subjects such as Production and Operations Management, HR Management, and Management Information Systems. You will also take specialised courses to develop the skills needed to become a successful corporate manager, such as communication, teamwork, and entrepreneurship skills. During this third year, you can choose to go on an exchange to one of our prestigious partner institutions worldwide. Studying abroad is a truly unique opportunity to continue developing a global professional profile.
Fourth Year
During the first half of your final year, you will present your final project proposal. You will have the opportunity to work on a topic that you feel passionate about and do the necessary research to present it by the end of the year. You will also be able to choose elective courses in a wide range of topics and areas to explore other fields you might be curious about. Throughout your last year, you will be able to choose a specialisation area like finance, entrepreneurship, or marketing, and earn a supplemental degree in that area.
Finance: Specialise in effectively managing financial resources, as well as assessment, investment management, risk evaluation, and allocation of financial resources.
Marketing: Learn how to design and market a service or product, and develop marketing strategies for diverse and international markets.
Entrepreneurship: Learn how to launch and manage your own business and brand, differentiate yourself from competitors, and plan and design your product or service for a target market.
Course Outcome
Once you finish your degree, you'll be ready to continue your career in a wide range of areas such as consulting, multinational companies and startups.
Consulting
As a consultant, you'll be able to advise businesses and organisations on how to optimise their strategies. You will also conduct research and collect data to understand organisations and how they operate. You will have the opportunity to work with different stakeholders in a wide variety of consultancy projects and fields, and implement business solutions across all business functions and areas.
Multinational Companies
You'll be able to make an impact working in diverse business areas like finance, accounting, marketing, operations and human resources, among others. You'll be able to follow a career path that focuses on a specific area, becoming a successful marketing, finance or operations manager and director.
Startups
Entrepreneurial ventures are also a great way to develop your career. As a business owner, you can try new innovative processes to optimise business functions, and use your creativity and entrepreneurship to come up with new business ideas.
Course Schedule
Starts in September
Who Should Attend
The BBA is for individuals who are business-oriented, dynamic and determined to bring their game-changing ideas to life. It is also for those who are looking for a challenging, international business programme with an experiential learning approach that creates future leaders and market disruptors.
Contact Information
International Offices
Singapore: [email protected]
South East Asia: [email protected]
Segovia Campus
Cardenal Zúñiga, 12
40003 Segovia, Spain
Tel: +34 921 412 410
Madrid Campus
María de Molina, 31 Bis.
28006 Madrid, Spain
Tel: +34 915 689 600
Detailed information, brochures and forms can be mailed to you upon request.

Community Ambassador; as someone who was raised in a rather privileged family, I hope to address the inequity in educational outcomes based on the circumstance of birth. Bounced around between Australia and Singapore a fair bit.