The International Family Guide to US University Admissions [Book Review]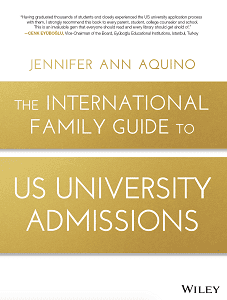 If you have a child who is hellbent on studying in the US despite (then) President Donald Trump's anti-immigrant rhetoric, this will be an indispensable guide. While there is no shortage of information out there in the "wild wild web" with plenty of admissions experts peddling their services using platitudes, fear or outright incorrect advice, it is hard to find a trusted resource to guide you through the process based on how the process actually works.
Drawing on her own experiences and encounters, Jennifer Ann Aquino has put together a comprehensive, step-by-step guide that maps onto the US application timeline. Within these pages, you will find detailed actions to take for milestones such as Early Decision (page 182) and Common Application (page 201), etc. The author recommends no jumping around the chapters because it's critical to understand and follow the milestones, which are to be accomplished in order. As with many textbooks published by Wiley, The International Family Guide to US University Admissions features icons that serve as a reminder of the importance of the information highlighted and the actions required.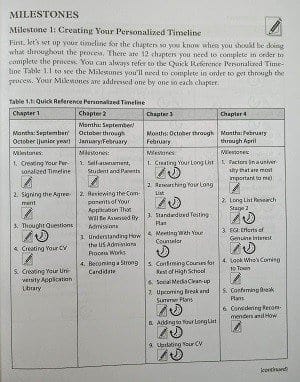 If you read this book in its entirety, you might be forgiven for thinking that choosing the right university to attend is one of the most difficult decisions to make in life. It probably is, but fortunately you can now find answers to all of your questions in one place.
The book itself is pretty up-to-date. On page 23, it mentioned that SAT scores have been converted to the "new" format to provide consistency throughout the guide. (In 2016, the SAT changed their test and scoring system.)
There are also quite a number of useful case studies offering first-hand advice from the students themselves, so you can hear from the proverbial horse's mouth. (Spoiler Alert: The outcomes of the case studies are highlighted towards the end of the book.)
While we like the linear structure of the book (it helps one to stay focused), perhaps stuff like "Family and Student Agreement" (Chapter 1) and some of the worksheets can be moved to the back as perforated pages in an appendix. This may make it easier for parents and child alike to act on their commitments.
If your child is serious about studying in the US, you must get a copy of this book. In fact, get two – one for yourself and one for your child (as prescribed by the author).

About the Author
Jennifer Ann Aquino has over 20 years of experience in the field of international education spanning four continents from teaching, admissions and fundraising to educational publishing and university management. Her deep and varied global experiences in international education have afforded her a unique understanding and perspective of the competitive and ever-changing sector of international education. Born in the US, she has lived and worked in education in Europe, Asia, the Pacific and is based between Geneva and Singapore. You can visit her website at www.jenniferannaquino.com.
Proud father of two lovely kids, who at times pushed me to seriously consider editing out the word "lovely" from this sentence. (I am not alone in this.)