International PhD Scholarships
Fast Facts
Applicants are invited to apply for PhD Scholarships sponsored by IMT School for Advanced Studies. These scholarships are available for both Italian and international students on the basis of competition. The aim of the scholarships is to support candidates to the effort, study and research in all areas of knowledge.
A total of 36 scholarships will be awarded. One (1) scholarship is reserved for candidates willing to write their doctoral thesis in applied economics and management under the joint supervision of a promoter from the IMT School.
The scholarships can be taken in Italy.
IMT School for Advanced Studies Lucca is one of the six Schools of Excellence in Italy and one of the highest rated graduate schools in Europe according to the most recent E-Multirank survey.
Applicable Disciplines
These scholarships are awarded in the following fields:
Analysis and Management of Cultural Heritage (AMCH)
Cognitive, Computational and Social Neurosciences (CCSN)
Computer Science and Systems Engineering (CSSE)
Economics Networks and Business Analytics (ENBA)
Eligibility
Applicants must have completed and obtained a degree equivalent to at least 4 years of university studies. (Students in their final year of undergraduate study may be admitted on the condition that their bachelor's degree is awarded before they enrol at IMT.)
Applicants from all around the world are eligible for these scholarships.
College Admission Requirement
Entrance Requirement: Applicants must have university degree.
English Language Requirement: Applicants must have proficiency in English.
How to Apply
Applicants can apply online.
Applicants have to upload the documents in PDF or any other non-modifiable standard format (i.e.: JPEG, JPG, GIF). The maximum size is 3MB for each single attachment. If the file is too large, it can be uploaded as a ZIP file as long as it is in PDF (or another non-modifiable format).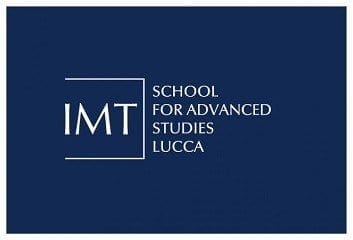 IMT School for Advanced Studies Lucca
Piazza S. Ponziano, 6 – 55100 Lucca (Legal Headquarters)
Tel: +39 0583 4326561
Email: [email protected]
Website: www.imtlucca.it
Facebook: IMTLucca
Twitter: @IMTLucca
YouTube: IMTAltiStudiLucca