Overview of the IB Diploma
Developed in Geneva by the International Schools Association (ISA), an organisation established in 1951 by UNESCO, the International Baccalaureate (IB) programme is one of the fastest-growing international curriculum programmes in the world. Approximately 135,000 students graduate every year with an IB Diploma, and these graduates are routinely recognised by the world's leading universities for their outstanding academic preparedness.
There is a stark contrast between IB and A-Level students, with the former at an advantage.
London School of Economics
The IB Learner Profile
At the heart of the IB programme is the Learner Profile, which forms the basis for the design of all IB courses. This set of skills and attributes provides a clear statement of the aims of studying the IB Diploma.
IB learners aim to be:
Inquirers – Learning to develop natural curiosity and acquire the skills necessary to conduct research and learn independently.
Knowledgeable – Learning to explore and acquire in-depth knowledge and understanding across a broad and balanced range of disciplines.
Thinkers – Who exercise initiative and apply thinking skills critically and creatively.
Communicators – Who understand and express ideas and information confidently and creatively.
Principled – Learning to act with integrity and honesty and with a strong sense of fairness, justice and respect.
Open-minded – Able to understand and appreciate their own culture and be open to the perspectives, values and traditions of other individuals and communities.
Caring – Able to show empathy, compassion and respect towards the needs and feelings of others.
Risk-takers – Who approach unfamiliar situations and uncertainty with courage and forethought.
Balanced – Understanding the importance of intellectual, physical and emotional balance to achieve personal well-being for themselves and others.
Reflective – Able to give thoughtful consideration to their own learning and experience.
IB students are more flexible, more open to new ideas and are more ready to question and challenge.
University of Essex
The IB Diploma Curriculum
IB Diploma candidates are required to tackle six subjects: two languages, one of which must be the mother tongue; one experimental science (biology or physics, for example); one in maths and computer science; one in the arts (music, theatre or visual); and the last involving the individual and society (history and geography, for example). Students take three of the subjects at the standard level and the rest at a higher level.
In addition, students must complete three "core elements": creativity, action and service (which encourages involvement in sports, art performance and community service; theory of knowledge, which teaches where knowledge comes from and how to analyse evidence and make arguments; and a 4,000-word extended essay about a chosen topic.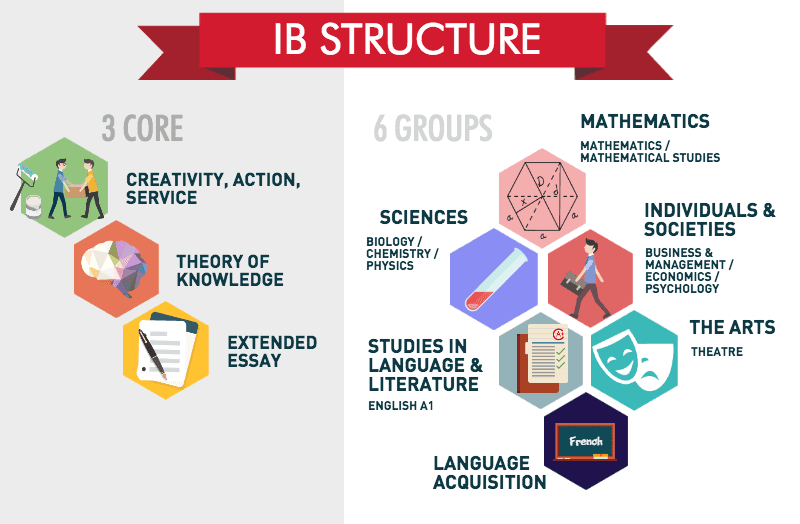 The Core: TOK, CAS & EE
Theory of Knowledge (TOK), Creativity, Action and Service (CAS) and the Extended Essay (EE) are the three components that make up the Core of the IB Diploma programme. These components offer visual evidence of the holistic nature of the qualification. Students are given opportunities to develop and demonstrate the attributes identified in the Learner Profile, as well as developing a keen understanding of the interconnectedness of their learning.
Theory of Knowledge (TOK)
The TOK course challenges students to be curious, to make discoveries and to tolerate the uncertainty of knowledge. This introduction to the nature and complexity of knowledge is central to the holistic philosophy of the IB, transcending and unifying the six subjects that students study.
Creativity, Action and Service (CAS)
In the CAS component, students are challenged to learn through reflection and experience the value of teamwork, leadership and responsible, compassionate citizenship. Described as the "beating heart of the IB", this course endorses all that IB schools seek to develop in their students.
Extended Essay (EE)
The EE is a vital component of the IB Diploma. Students are asked to produce a 4,000-word independent piece of research into an area of their studies. The skills of research, problem solving and extended writing are those which will be tested at university, and this offers a vital opportunity for students to demonstrate their engagement and interest in a subject.

Community Ambassador; as someone who was raised in a rather privileged family, I hope to address the inequity in educational outcomes based on the circumstance of birth. Bounced around between Australia and Singapore a fair bit.