[HEC Paris] Managing Innovation and Design Thinking Specialization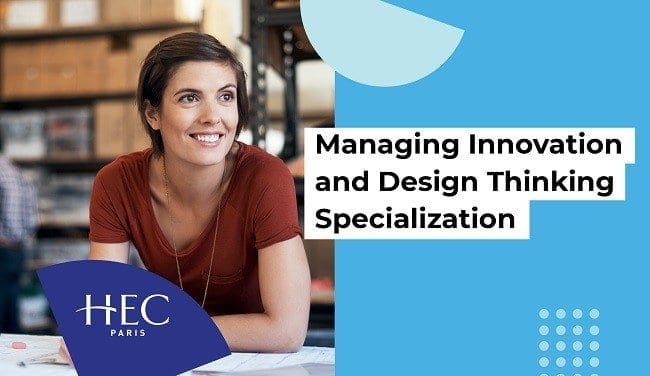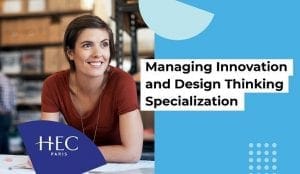 Go beyond general management with structured models and techniques used by successful entrepreneurs and CEOs. You will learn how to drive innovation at any stage of business development — from developing an idea to leading a company.
Taught by award-winning faculty from HEC Paris, one of Europe's leading business schools, the curriculum provides structured models and techniques that teach you to be an innovator and change-maker in any industry.
This Specialization is part of the HEC Paris MSc in Innovation and Entrepreneurship. If you are admitted to the full program, your courses count towards your degree programme.
Course Duration
Approx. 6 months to complete
Suggested 6 hours/week
Course Content
What you will learn in this specialisation:
Build your own prototype for a product, service, or business design
Lead strategic decision-making about innovation in order to compete
Develop a personal tool-box and managerial framework to effectively foster creativity in your organisation
Learn how to design and govern a team, project, and organisation
Course 1: Boosting Creativity for Innovation
The first goal of this course is to provide a variety of experiences and activities with the aim of developing the creative abilities of each participant. A second goal is to understand the importance of creativity from a consumer perspective.
Course 2: Strategic Management of Innovation
This course will prepare you for making strategic decisions specifically about innovation. You will learn how to source innovation, the types and patterns of innovation, how to compete in dynamic standards battles and how to gain dominance, how to protect innovation from imitation, and the crucial question of timing – a new product launch and market entry.
Course 3: Organisational Design and Management
You'll be exposed to an in-depth analysis of four applied case studies of successful ventures, as well as both theoretical and applied frameworks that will help you to better design and manage your organisation.
Course 4: Design Thinking
This course will follow a clear and structured process and you will work through several phases to understand what design thinking is, its foundations, principles and main phases

Last Updated on November 17, 2020

Coursera provides universal access to the world's best education, partnering with top universities and organizations to offer courses online.